The Italian sheet metal forming experts establish their North American sales office as they launch top-quality innovation into the US market
LOS ANGELES, Oct. 22, 2015 -- FORMITALY, an Italy-based company that provides equipment for sheet metal working, announced today that it will be exhibiting at the 2015 FABTECH EXPO (Booth # S4778), formally advertising its entry into the US marketplace. Their new North American sales office, based in Los Angeles, CA, will enable FORMITALY to operate more effectively in the market and respond rapidly to American customers. FORMITALY combines revolutionary die and press technology with seamlessly integrated forming lines to provide complete systems for plate metal deformation and die forming. A one-stop shop for customizable stamping lines, FORMITALY offers tailor-made, turnkey solutions that match individual-manufacture needs, whether it be the development whole lines or the supplementing of existing equipment.

"I am very excited that FORMITALY will exhibit at the FABTECH EXPO, as it marks an important milestone for the company as we officially launch into the US market," said Betty Galli, a FORMITALY executive. "It is a great opportunity to showcase the innovative technology and quality services that have pushed FORMITALY to the forefront of the sheet metal forming sector in Europe and we hope it is the beginning of something very special here in North America."
FORMITALY offers four customizable hydraulic press models, divided by function, as well as 4 mechanical press series. All presses and dies are designed and produced in-house, giving FORMITALY the flexibility to match a client's exact requirements, thereby improving their production efficiency.
FORMITALY also prioritizes the development of advanced servicing and repair technology. Responding to industry needs, FORMITALY designed a unique upgrade on traditional die-maintenance techniques: the die-splitter. While using forklifts or manual labor to lift dies is both a safety risk and time-consuming, die-splitter technology safely and securely opens, lifts, and turns the die for maintenance, saving clients time and money while enhancing solidity, precision, and speed.
About FORMITALY
FORMITALY, headquartered in the Italian region of Lombardy, is divided into three specialized but fully integrated branches - Cavenaghi & Ridolfi Hydraulic presses (http://www.cavenaghi-ridolfi.com); IMV Presse Mechanical presses (http://www.imvpresse.com); Attrezzeria Universal Dies and Die-splitters (http://universal1972.com). With over 90 years of experience, FORMITALY boasts an impressive history of providing successful services to numerous multinational corporations. For more information about FORMITALY, please visit http://www.formitaly.eu/en/. To reach the North American sales office, please call +1-213-261-0055 or info@formitaly.us
Featured Product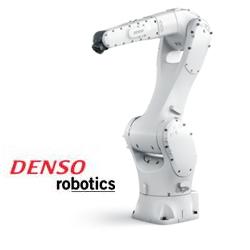 The new VMB series represent some of the newest members to our 6-axis family of robots. These high-performance, versatile units offer a longer arm reach and a higher load capacity than traditional models which make VMB an excellent solution for palletizing, packaging, and material handling. New features include greater air piping, valve and signal line options, as well as new programming options with state-of-the-art functions using our new WINCAPS Plus software. VMB offers an IP67 protection grade along with meeting ISO Class 5, which makes them suitable for electric parts, food manufacturing processes, and pharmaceutical and medical devices. With the addition of the new VMB large robots, all manufacturing processes can now be automated by DENSO Robotics.