OCTOPUZ Robotic Offline Programming and Simulation Software Makes Fabrication Simple
Oct 23, 2015 -- By taking a revolutionary approach to robotic challenges, OCTOPUZ is making Fabrication simple, and theyll show you how its done at the largest fabrication event of its kind in North America. Make sure you stop by our booth for a demonstration and to qualify for our show discount!

In-House Solutions will be featuring its innovative OCTOPUZ offline robotic programming and simulation software at FABTECH 2015, being held Nov. 9-12 at McCormick Place in Chicago, Illinois, booth N23061. North Americas largest metal forming, fabricating, welding and finishing event is expected to bring 1,400 vendors and 27,000 attendees together under one roof.
FREE FABTECH EXPO PASSOCTOPUZ provides powerful and effective solutions for all robotic challenges in ways that are unique to the fabrication industry. The applications are almost limitless, at FABTECH 2015 we will focus on welding, plasma cutting, laser cutting, waterjet cutting, laser cladding, thermal spraying, inspection and simulation.
"The Robotics Industry is experiencing its best year ever. OCTOPUZ Fabrication software offers a wide range of tools for programming your robotic cell." said Greg Culp, Robotics Sales Manager at In-House Solutions.
Manufacturers are encouraged to bring their questions and challenges to the OCTOPUZ team, who will come back with ideas or even offer a free personalized demo tailored to the companys unique application. Free webinars conducted by experts in the field are also available to help companies and their employees stay on top of changes in the industry. Each session, developed in response to customer surveys, is designed to provide information, facilitate knowledge exchange and encourage questions.
About OCTOPUZ
OCTOPUZ ( www.OCTOPUZ.com) is an intelligent offline robot programming and simulation software ideal for any path-sensitive application. Created by In-House Solutions, the company took a revolutionary approach by combining the offline programming of robots with a manufacturing process simulation. Today, OCTOPUZ provides a mainstream, versatile, powerful and effective solution for any robotic challenge.
Featured Product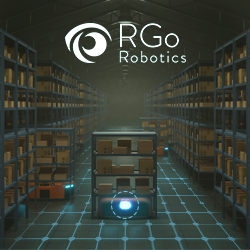 RGo's intelligent vision and AI system, Perception Engine™, provides mobile robots with 3D perception capabilities, enabling them to understand complex surroundings and operate autonomously just like humans. Its camera-based system operates is able to localize, map, and perceive in even the most robust environments including indoor/outdoor and dynamic or unstructured environments.