Festo showcases a modular X/Y planar gantry that is capable of screw driving, gluing, insertion, and picking and placing; a new flexible platform conveyor; an innovative vision sensor, a new high force/high accuracy servo controlled press subassembly; online productivity tools; grippers; and a host of electric and pneumatic motion control components ready to be packaged into subassemblies. (Festo Booth 1205)
HAUPPAUGE, NY October 27, 2015 -- Festo showcases at the Assembly Show 2015, October 27-29 at the Donald E. Stephens Center in Rosemont, Ill., a range of automated motion solutions designed to not only lower OEM engineering costs and reduce time to market, but also to improve the throughput of OEM machines. (Festo Booth 1205)

Festo will display the state-of-the-art EXCM X/Y planar gantry. This motion system provides OEMs with a plug-and-play subassembly for light assembly machines for screw driving, gluing, insertion, electronics testing, and picking and placing.
An elegant design involving only two motors and a toothed belt are responsible for its overall small form factor, precision, and speed. The model EXCM-30, for example, delivers speeds of up to 1.6 feet/s (500 mm/s), absolute accuracy of ±0.020 inches (±0.5 mm), and repeatability of ±0.002 inches (±0.05 mm).
"With the EXCM as the motion-system backbone of an assembly solution, Festo will work with OEMs to improve machine throughput, shorten time to market, reduce engineering time, and lower overhead for our OEM partners," said Chip Arnold, Industry Segment Manager of Light Assembly, Festo. "Our plug-and-play systems and wide range of components will be incorporated into comprehensive solutions."
Also on display
Festo showcases the new Multi-Carrier System co-developed with Siemens. The Multi-Carrier System complements todays transport solutions by enabling completely free routing of one or more products or components through the transport system for lot sizes of one. The system allows some products to be treated on a custom basis while others follow a prescribed route. Each transport carrier in the Multi-Carrier System can move freely and independently of all other carriers.
The Festo SBSI camera sensor is highlighted in an active part checking demonstration. The innovative SBSI camera sensor with easy-to-use software is ideal for basic vision applications such as code reading and part checking. The SBSI sensor does not have the cost or the difficult programming, lighting, and set up of machine vision systems. "Our OEM customers can recognize the benefit of the SBSIs simplicity and low cost," Arnold said. "The SBSI solves an industry need for cost-effective vision capabilities."
Festo is featuring its new high force/high accuracy servo controlled press that is rated at up to 3,800 foot pounds (17 Kilonewtons) of force. Festo can package complete subassemblies for OEMs, saving engineering time. The company assigns a unique/single part number for ease of ordering, inventory, and support.
Information on fast, guaranteed on-time parts shipping, online engineering productivity tools, and subassembly engineering and single part numbering will be available. A wide selection of grippers, motion controllers, and electric and pneumatic motion components important to light assembly will also be highlighted by Festo.
Other Festo news at The Assembly Show
From 1-1:40 on Wednesday, October 28, Nuzha Yakoob, Senior Product Manager, Electromechanical, Motion Control, and Mechatronics, will give a Showcase Theater presentation on assembly trends and how smart factory concepts can be applied today. From 5-7 on Wednesday, Festo is sponsoring a networking reception in the meeting area.
For more information on Festo productivity and throughput solutions for OEMs in the light assembly industry, call 800-993-3786 and visit http://www.festo.com/us. And stop by the Festo Assembly Show Booth 1205.
Featured Product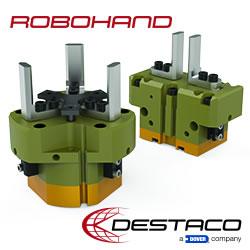 Automatically change end effector tooling quickly and easily with Destaco's Automatic Tool Changers. Designed with exceptional repeatability, high rigidity and load capacity, they are perfect for multiple tooling applications utilizing one robot. We offer different models and sizes to handle light-duty to heavy-duty applications. Our RQC/RTP Series provides a high level of flexibility with a configurable, modular design that accommodates up to four optional modular interfaces.