Strategic Move Strengthens the BWG Commitment as the Linear Motion Market Leader with the Most Comprehensive Product Offering
Pittsburg, Calif. - October 29, 2015 - Bishop-Wisecarver Group (BWG), a WBENC-certified, woman-owned family of companies that offer guidance solutions, contract specialty manufacturing and mechatronic-based engineering services, today announced it has signed an agreement with T RACE, an established European leader of innovative linear guides and telescopic slides. Through this strategic partnership, BWG will be able to service a wider range of motion applications by offering a more expansive product line to meet diverse requirements.

"We are pleased to partner with a company that shares our values and philosophies regarding design, customer service and product quality. We look forward to strengthening our product portfolio with T RACEs innovative guides and slides," said Pamela Kan, president of Bishop-Wisecarver Group. "This is an extremely beneficial partnership for existing and future customers who can now source, from one trusted supplier, customized engineering solutions for all of their motion needs."
T RACE products are well known for their originality in both the dimensions and geometric shapes and for their innovative production processes. C-shaped rails with internal raceways, coupled with roller sliders or ball cage sliders, offer the best performance and size available on the market. These products are well suited for applications where environmental conditions are critical and where ease of installation is required. Application areas are very diverse, ranging from CNC-machines and general-automation to civilian and military transport vehicles, medical equipment, civil construction, high-tech furniture and countless other applications, where traditional re-circulating ball slides are not an adequate linear solution.
"BWG is well known for delivering superior products with outstanding customer service and support, which is exactly what we were looking for in a North American distributor," said Loris Bolzonaro, CEO at T RACE S.p.A. "Our product portfolios are complementary and together we can provide customers with an extremely customizable product selection that meets all their diverse load requirements."
Details on the Partnership
Customers can begin purchasing the T RACE products from BWG in October 2015. BWG will provide post-sale service and support.
To view a list of T RACE products, interested parties can visit the T RACE page and purchase directly from BWG.
About the Bishop-Wisecarver Group
Bishop-Wisecarver Group (BWG) is a woman-owned family of WBENC-certified companies that works with manufacturers to engineer, manufacture, and build linear and rotary motion solutions, custom complex assemblies, and optimal embedded intelligence systems. Through the integration of mechanical, electrical, software, control and systems design engineering expertise, 60+ years of experience and 20,000+ unique clients, BWG continues to provide a single point of service that results in custom designs, increased efficiencies and accelerated time to market. For more information, visit www.bwc.com.
Featured Product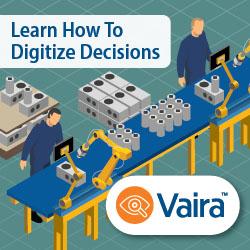 Pleora's AI Gateway provides a hybrid approach that allows system designers, integrators, and end-users to add more advanced AI capabilities alongside existing sensor sources and classic computer vision algorithms.