Xtreme Drone Circuit to conduct its inaugural First Person View (FPV) drone racing event Sunday, Nov. 15; races are environmentally friendly, free and open to the public
Las Vegas, NV November 04, 2015 -- Get ready for the worlds first competitive drone race through a former hotel-casino.

Nevada has emerged as an epicenter for many facets of the burgeoning drone scene.
As the state has become a global leader in the research, development and testing of unmanned aerial vehicles, with Gov. Brian Sandoval, private industry and academia all driving investment in the drone industry, the competitive side of drone racing has established its own niche as a compelling pastime.
On the hobbyist level, informal gatherings of drone enthusiasts such as the Las Vegas Rotorheads are coming together throughout the Las Vegas Valley on a weekly basis.
Now, Las Vegas Downtown Project and its partners are launching the Xtreme Drone Circuit (XDC), a league dedicated to the exciting, high-adrenaline sport of First Person View (FPV) drone racing.
The inaugural XDC drone racing competition will take place from noon to 6 p.m. on Sunday, Nov. 15, at the Western Hotel in the Fremont East district of Downtown Las Vegas.
"This event is a completely organic starting place for the XDC, which we are confident will grow into something far grander in the coming years," said Mark Rowland, CEO of DTP Ventures, which oversees many of Downtown Projects investments. "Until now, drone racing in Southern Nevada has been largely an underground, guerrilla phenomenon. XDC is poised to break out and become a massive competition, bringing the high-energy sport of FPV drone racing to the next level."
The XDC drone racing competition will feature dozens of racing drones flying at fantastic speeds through a specially designed course inside the historic Western Hotel. The Western, shuttered as a hotel-casino in 2012, was renovated as part of Downtown Projects revitalization efforts.
Drone pilots race by tracking their drone through special video goggles that see the race from the drones perspective— a dynamic known as First Person View (FPV). Its like being on board the racing drone. In addition, the audience at the Western can experience the pilots perspective through the use of multiple big-screen TVs on site that simulcast the FPV. This innovative approach makes it easy for the audience to identify various drones, teams, time trials and other elements of the competition that drive the adrenaline rush higher and higher.
"As much as anything, this event is about having fun and supporting drone racing enthusiasts who until now really havent had such a cool, well-organized venue in which to race," Rowland said. "These drone pilots have become amazingly adroit at maneuvering their racing drones through race courses that often include narrow, confined spaces and incredibly close proximity to other racing drones. Sure, there are occasional crashes, but feelings are the only thing that might get hurt."
The Western, at 899 East Fremont Street in the heart of Downtown Las Vegas, is perfectly positioned to host the drone races, with refreshments, bar and ample viewing space. The inaugural XDC drone racing competition is free to attend, promising a party-like atmosphere with a DJ and announcers keeping fans abreast of the action.
Prizes of up to $2,500 will be awarded to winners courtesy of sponsors from the drone racing industry, and specially made XDC T-shirts will be available to commemorate the inaugural drone racing competition.
Sponsors of the event include Downtown Project, Zappos, the Gold Spike and Multirotor Grand Prix.
The Xtreme Drone Circuit event will be powered by Alternative Power Productions (APP), which delivers environmentally friendly concerts by utilizing natural energy resources like the sun combined with years of production experience. The APP solar powered stages, trailers and sound systems give both event producers and performers an opportunity to educate the community about the benefits of renewable energy while delivering events with state of the art sound quality.
For the inaugural Xtreme Drone Circuit event, the LED video screens will be completely powered by solar energy. The APP Solar Powered Hybrid Trailer integrates a 2.5 kilowatt solar array, which supplies sunlight to batteries to two 500 Ah batteries. The array powers multiple Systems Inverters pumping 175 amps of power at 240 Volts. So what are the environmental attributes of the solar trailer? During the XDC event, the trailer will help to avoid approximately 511 pounds of CO2 which is equivalent to the (calcs are based on total event kWh):
* CO2 emissions from 10 propane cylinders used for home barbecues
* CO2 emissions from 26 gallons of gasoline consumed
* 552 miles per year driven by an average passenger vehicle
* 249 pounds of coal burned
For more information on the Xtreme Drone Circuit, please visit http://www.xdcracing.com.
Featured Product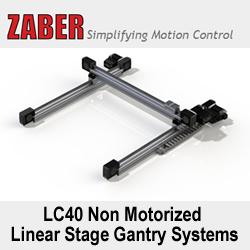 A Zaber gantry kit comes with everything you need to build a customized XY gantry system or XYZ gantry system. These gantry systems feature coordinated multi-axis motion, plug-and-play operation, easy integration with end-effector options, and built-in IO and E-Stop capabilities. An intuitive ASCII interface allows the user to easily communicate with the gantry systems using our free software, either Zaber Motion Library with APIs for several popular languages or Zaber Console. Third party terminal programs that can communicate over a serial port can also be used.