Nominations Now Being Accepted for 2016 Engelberger Robotics Awards
(Ann Arbor, MI, November 9, 2015) - The Robotic Industries Association (RIA) today announced the launch of a website paying tribute to Joseph F. Engelberger, known as the "Father of Robotics." Engelberger, who recently celebrated his 90th birthday, was an engineer and entrepreneur who pioneered Joe Engelbergerthe robotics field. Engelberger founded the worlds first robotics company, Unimation, in 1956.

"Its important to remember our history in robotics," said Jeff Burnstein, President of RIA. "This website provides a timeline of his many accomplishments in the field of robotics that is still revolutionizing modern manufacturing processes today." The tribute site is located on the RIA website, Robotics Online.
RIA also announced that nominations are now being accepted for the world's most prestigious honor in the field of robotics, the Joseph F. Engelberger robotics awards. The awards are presented each year to individuals for excellence in robotics technology development, application, education, and leadership. Since the awards inception in 1977, they have been presented to 116 robotics leaders from 17 different nations. Recent winners of the Engelberger award include Dean Kamen, founder of the FIRST Robotics competition and Rodney Brooks, co-founder of iRobot and current Chairman and CTO of Rethink Robotics.
The 2016 awards will be presented in the categories of Leadership and Application. Each winner receives a $5,000 honorarium and a commemorative medallion with the inscription "Contributing to the advancement of the science of robotics in the service of mankind." These distinguished awards will be presented in conjunction with the International Symposium on Robotics in Munich, Germany, June 21-24, 2016. The nomination form is available on the RIA website. Applications must be received by January 15, 2016.
About Robotic Industries Association (RIA)
Founded in 1974, RIA is a not-for-profit trade association dedicated to improving the regional, national and global competitiveness of the North American manufacturing and service sectors through promotion and enhancement of robotics and related automation. RIA represents 340 robot manufacturers, system integrators, component suppliers, end users, consulting firms, research groups, and educational institutions. The association hosts a number of events including the The Vision Show, May 3-5, 2016 in Boston, MA, the A3 Business Forum (February 3-5, 2016 in Orlando, FL) and the biennial Automate Show & Conference (April 3-6, 2017 in Chicago). RIA also provides quarterly robotics statistics and has a content-rich website, Robotics Online. For more details, visit RIA or call 734/994-6088.
About Association for Advancing Automation (A3)
The Association for Advancing Automation is the global advocate for the benefits of automating. A3 promotes automation technologies and ideas that transform the way business is done. A3 is the umbrella group for Robotic Industries Association (RIA), AIA - Advancing Vision + Imaging, and Motion Control & Motor Association (MCMA). RIA, AIA, and MCMA combined represent some 850 automation manufacturers, component suppliers, system integrators, end users, research groups and consulting firms from throughout the world that drive automation forward. For more information, please visit our websites: A3 - RIA - AIA - MCMA.
Featured Product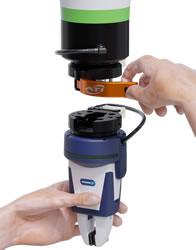 Simpler, stronger, and more precise. ATI Industrial Automation has developed a series of Manual Tool Changers that provides a cost-effective solution for quickly changing tools by hand. They feature a unique design that combines high strength, excellent repeatability, and a patent-pending screw-cam locking mechanism with multiple fail-safe features, which resists vibration and prevents loosening. These robust and compact Manual Tool Changers can handle payloads up to 80 pounds (36 kg) and pass pneumatics and electrical signals.