New research highlights new applications and consumers privacy concerns
Hampshire, UK: 10th November 2015: A new study from Juniper Research has found that reduced component cost, increased competition and a greater number of use cases will together push the number of consumer drones shipped globally to more than 20 million per annum, up from less than 4 million this year.

Augmented Reality (AR) to Boost Drone Innovation
The new research - Drones: Consumer & Commercial Applications, Regulations & Opportunities 2015-2020, observed that usage had already extended beyond the core base of hobbyists, spurred by the drop in retail price and the increased functionality of the devices. It observed that most consumer drones now offered the capability for live streaming of photos and video.
With the advent of AR (Augmented Reality) likely to become prevalent on UAVs (Unmanned Aerial Vehicles) in the near future, this will open up further opportunities for innovation in applications for both the consumer and commercial sectors alike.
Increased Competition
Meanwhile, the research noted that while companies like DJI currently dominate the mid-priced and prosumer UAV market, an increasing number of players were targeting the low-tiered sector. New entrants include companies that have grown out of the toy radio-controlled model aircraft industry, such as China-based companies Syma Toys and Hubsan, and those that supply complementary devices and components to the UAV market, such as GoPro.
Security Issues
However, the research cautioned that drones use of unlicensed spectrum and reliance on GPS leaves them at risked of being hacked, with hackers capable of taking control of the UAV by intercepting unencrypted data feeds or commandeering the Wi-Fi connection.
Privacy Concerns
The research also highlighted the growing concerns around drones potential invasion of privacy, with fears that UAVs could be used for activities including snooping, spying and stalking and criminal surveillance of property. According to research co-author Dr Windsor Holden, "Given drones capabilities to gather, store and disseminate images online, consumers are understandably uneasy that - for example - they could hover over (or within) private property and take photographs without permission."
The whitepaper, Game of Drones, is available to download from the Juniper website together with further details of the full research and the attendant Interactive Forecast Excel (IFxl).
Juniper Research provides research and analytical services to the global hi-tech communications sector, providing consultancy, analyst reports and industry commentary.
Featured Product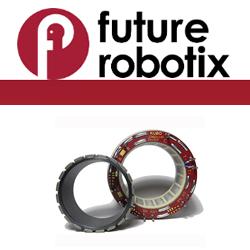 Featuring a complete housed solution, this compact and lightweight servo produces the same out-put power and torque that you would find in larger and heavier servo motors. With: Two 19-Bit Absolute Encoders, a Controller, Harmonic Drive Gearbox, FMI Motor, Thermal Sensors, a CAN Interface, and API Control. Available in sizes from 50mm to 110mm.