Thirteen Startups That Solve Hard Problems Unveiled New Hardware Products during HAX Accelerator Demo Day in San Francisco
SAN FRANCISCO--HAX, formerly known as HAXLR8R, reveals 13 new global hardware startups and their products from HAXs seventh Accelerator Demo Day and 10 new graduates of its first Boost program Demo Day. HAX is the worlds premier hardware investor, expediting the best hardware startups from around the world from an initial idea to a distributable product. In just three years, HAX has accelerated 90 hardware startups. To learn more about the 13 new hardware startups from the seventh HAX class and the 10 new Boost companies, and to watch the recorded presentations from Demo Day, visit http://hax.co/blog/.

"The 13 graduates of HAX accelerator program are leading innovators that are solving major health issues such as anxiety, depression and spinal injuries, to making daily objects smart such as earphones, coffee machines and suitcases," said Duncan Turner, managing director of HAX Accelerator. "Out of the 90 startups that graduated HAX over the past three years, several alumni such as Makeblock, Yeelink and Next Thing Co., are on trajectories comparable to the hardware unicorns such as Fitbit, Nest and Oculus."
The seventh HAX class included:
Auroma
Auroma is a coffee science machine that has the ability to control all the parameters involved in making the perfect cup of coffee. The Auroma learns your preference over time and is able to adjust brewing parameters to make a cup of coffee tailored to individual taste. The company is based in Vancouver, Canada.
Berkeley Ultrasound
Berkeley Ultrasound is an ultrasound device used to help treat depression and the potential development of Alzheimers disease. The company is based in San Francisco.
Dispatch
Dispatch is a local, delivery-as-a-service, powered by small autonomous ground-based vehicles built for last-mile ground delivery. Dispatch is based in Menlo Park, Calif.
Grasp
Grasp is an ergonomically designed, biometric, smart bike lock that uses fingerprint recognition. With Grasp there will be no need for keys. The company is based in Waterloo, Canada. Support Grasp on Kickstarter.
Intelligent Implants
Smartfuse Intelligent Implants harnesses the latest advances in electro-therapeutics to speedup, control and monitor bone growth products for the spinal implant market segment. The company operates from the U.S. and Ireland.
Livin Farms
Developed by Red Dot Design Award winners, Livin Farms desktop insect farm grows the cleanest protein supplement. The company is based in Vienna, Austria and Hong Kong. Support Livin Farms on Kickstarter.
Madada
Madada brings cosmetics to the tech world with pocket mirrors that track skin moisture, UV exposure and more. It can also be used as a remote for selfies. The company is based in Shenzhen, China.
Nua
Nua transforms belongings into personal assistants. Nuas first product is the worlds first smart robotic luggage that follows you so there is no need to ever roll or carry a suitcase again. The company is based in Jerusalem, Israel.
Pinpress
Pinpress is a dynamic, shape-shifting tool that gives you thousands of molds in one, unlike regular industry molds that only create one shape. Pinpress enables users to mass produce highly-personalized products. The company is based in Waterloo, Canada.
Pycno
Pycno is a plug-and-play wireless sensor for agriculture. Users plug into the soil to get critical information used to optimize the use of water, fertilizer and electricity, and to increase the quality and quantity of their produce. The company is incorporated in Delaware.
Revols
Revols proprietary fitting technology delivers quick custom-fit wireless earphones that mold to users ears in 60 seconds. Sound powered by Onkyo. The company is based in Montreal. Support Revols on Kickstarter.
Simbe Robotics
Simbe Robotics gives retailers unparalleled visibility into the state of merchandise in their stores through Tally™, the worlds first autonomous, shelf-auditing and analytics solution. The company is based in San Francisco.
Zenso
Zenso is a wearable sensor to manage anxiety and stress. It teaches you how to voluntarily control your heart rate through haptic biofeedback. The company is based in San Francisco.
Each company was selected from hundreds of applicants to participate in HAXs highly sought after 111-day hardware accelerator program. The companies spent the last three months in Shenzhen, China, the components and electronic supply chain capital of the world, where they focused on creating a production-ready prototype and fine-tuning their business models and supply chain. HAX participants had access to seed funding, office space with a modern equipped workshop, and more than 50 experienced mentors and experts in design, manufacturing and logistics.
Boost is the first ecosystem-driven accelerator program designed for hardware startups to surpass their sales targets in just 42 days. Boost targets startups with a product on the market, and brings them the critical resources needed to sell their products and grow their companies.
HAX is currently taking applications for its eighth class until November 11, 2015. Apply at www.hax.co/apply.
About HAX
Founded in 2011, HAX is the premier hardware accelerator. As the top investor in the industry, HAX has a fully blown ecosystem for hardware creation (Accelerator) and supports startups for growth and distribution (Boost). HAX works with the best hardware startups from around the world utilizing the "lean hardware" approach it created. With offices in Shenzhen, China, the mecca of electronics, and San Francisco, HAX has taken 90 companies to market and is considered the trailblazer of the "hardware renaissance." For more information, visit http://www.hax.co and follow us on Twitter @haxlr8r.
Featured Product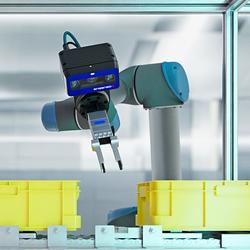 IDS NXT: a platform for a new generation of vision systems for industrial applications. It lays the groundwork to provide easy-to-use yet flexible complete systems that can be used to implement all steps of a vision solution. With IDS NXT ocean, a complete solution especially for AI-based image processing is now available. It allows to solve tasks where classic, rule-based image processing has reached its limits - without any programming effort.