Experience the KUKA Coaster from KUKA Robotics in booth 441 at IAAPA 2015 November 17th – November 20th, 2015
SHELBY TOWNSHIP, Mich. & ORLANDO, Fla.--KUKA Robotics will be in booth 441 exhibiting among 1,000 industry professionals at IAAPA Attractions Expo 2015. IAAPA is the largest international tradeshow for the amusements and attractions industry.

Pure excitement is what awaits attendees when visiting the KUKA Robotics booth at this years IAAPA Attractions Expo. This is the launch event for KUKA Robotics to have the next generation, 2-passenger ride system - KUKA Coaster - on display and ready to ride. With mobility in six axes, the KUKA Coaster can freely move up to a 1,3200lb capacity 2-passenger gondola and create a unique ride experience from 5 selectable ride levels. These range from "gentle" to "x-treme," allowing passengers to personalize their thrill experience. KUKA unveiled the original version of this innovative ride to the world for the first time at the 2002 Hannover Messe Industrie. At this years IAAPA Attractions Expo, the worlds largest trade show for amusement parks and rides, held in Orlando, Florida, from November 17 to 20, the Augsburg, Germany-based robot and system builder is presenting the latest generation of the robot-based ride.
It is also possible for the KUKA Coaster to be customized with theming, A-V media systems, photo or gaming interfaces, and more to become a star attraction whether in theme parks, family entertainment centers or large amusement parks. The redesigned system now has floor level passenger boarding plus a new touchscreen graphical user interface for easy and safe operation by system operators. The KUKA Coaster packs all the necessary attributes into 36 feet by 36 feet floor space with 21 feet ceiling clearance as an indoor ride, but also has the possibility of outdoor use with suitable environmental protection.
For all the fun of the ride, it is reassuring to know that the KUKA Coaster is still the first and only articulated arm robot licensed to carry passengers, being certified by the German technical inspectorate TÜV as conforming to EN 13814 (DIN 4112) and thus to the relevant industry safety standards. This is the result of a reliable design and production technology that has proven its worth all over the world. Its structural components and gear units are 100% certified. Mechanical stops and continuous electronic monitoring provide added safety. The latest generation of the service-proven KUKA Safe Operation technology package is used in the KUKA Coaster, thereby ensuring absolute safety. There is thus no reason to put off an exciting ride in what must surely be considered as one of the most innovative amusement rides.
Joining the KUKA Coaster is a robotic demonstration designed and provided by Official KUKA Robotics System Partner, Robotics Solutions, Inc. An in-booth cell will feature a KR AGILUS KR10 R1100 with unlimited possibilities for trimming, deburring, deflashing, degating and polishing plastic parts. This off-line programmable robotic solution has an extremely small footprint of 35 square feet capable of machining a part 4 feet in diameter by 5 feet tall and runs on single phase 240 VAC and 20A power. The KR AGILUS is KUKA Robotics new family of small robots. Two payloads of 6kg and 10kg with a reach of 700mm, 900mm, and 1100mm are available. The KR AGILUS also comes in cleanroom and waterproof versions to meet a variety of customer needs and applications.
The KUKA Robotics System Partner network is designed to mutually benefit each organizations users by extending the way customers can acquire tailored solutions with the major competitive and technological advantage of high precision KUKA robots. The KUKA Robotics System Partner Network includes experienced OEM machine builders, system providers, application specialists and expert robot integrators.
About the KUKA Robot Group
KUKA Robotics Corporation along with KUKA Roboter GmbH, Augsburg Germany (part of the KUKA Aktiengesellschaft group of worldwide companies), ranks among the worlds leading suppliers of industrial robots and material handling vehicles. Core competencies include the development, production, and sale of industrial robots, controllers, software, linear units, and omniMove™ omni-directional motion platforms. KUKA robots are utilized in a diverse range of industries including the appliance, automotive, aerospace, consumer goods, logistics, food, pharmaceutical, medical, foundry and plastics industries as well as multiple applications including material handling, machine loading, assembly, packaging, palletizing, welding, bending, joining, and surface finishing. KUKA robots range from 5kg to 1300kg payloads, and 635mm to 3900mm reach, all controlled from a common PC based controller platform.
Featured Product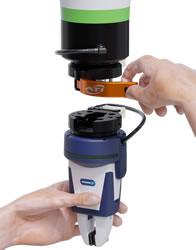 ATI Industrial Automation's MC-10 Manual Tool Changer provides a cost-effective solution for quickly changing tools by hand. Its compact yet robust design is optimized for collaborative robot applications. The ergonomic twist-collar locking mechanism ensures a secure attachment of the tool and easy manual operation with tactile feedback. This Manual Tool Changer can carry payloads of up to 22 lbs and includes multiple fail-safe features that resist vibration and prevent loosening. The MC-10 Manual Tool Changer has integrated air pass-through connections and options to connect electrical utilities if needed. ATI will feature the new MC-10 along with a variety of other robotic demonstrations and product displays at this year's IMTS show in Chicago (Booth #236417).