Prosthetics company uses 3D printing technology and innovative design to create the MCPDriver, a new custom-made prosthesis that helps finger amputees regain function using their existing joints.
Tumwater, WA November 16, 2015 -- Naked Prosthetics has announced the official release of their latest prosthetic device: the MCPDriver. Designed for finger amputations distal to the MCP joint, or first knuckle, this device uses a double-articulating linkage system to provide wearers with the length, grip strength, and dexterity they need to accomplish daily tasks. The MCPDriver is the latest addition to Naked Prosthetics' line of Biomechanical Prosthetic Fingers (BPFs), expanding the company's efforts to make finger amputees whole by incorporating seamless aesthetics with function.

The MCPDriver is made using the most modern additive commercial manufacturing practices, utilizing 3D printing of stainless steel components and nylon polymer, resulting in a reinforced prosthetic with extreme structural integrity. The strong steel frame supports and restores a patient's ability to grasp objects firmly. Conforming silicone pads embedded in the prosthesis provide a natural grip when holding a variety of objects, while maintaining a slim shape that accommodates those with a single or multiple amputations. A low profile, durable, and washable silicone hand strap anchors the device without obstructing tactile sensation on the palm. The device utilizes the ring-style technology previously developed for Naked Prosthetics' family of products, which facilitates function and protection without impacting the sensitive amputation.
At Naked Prosthetics, engineers design and manufacturer each device to be customized for the amputee. Naked Prosthetics strives to be a resource for medical professionals and their patients, working with prosthetists, surgeons, and hand therapists to assist in the sizing and fitting for their prosthetic devices. When creating an MCPDriver, the engineering staff works with prosthetists to adjust for scar tissue, limitations in movement, or other abnormalities to ensure a comfortable fit and a device inspired by the mechanics of the human hand. The result is a body powered, fully functional prosthesis with a short adoption and learning curve, allowing amputees to return to their work and daily tasks. With the MCPDriver, amputees can return to everyday life safely, quickly, comfortably, and with confidence.
Featured Product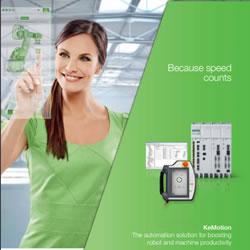 Best ergonomics and an intuitive user interface are key factors for efficient operation and monitoring. With the KeTop devices, high-performance, application-optimized hardware is available. The turnkey TeachView robotics user interface enables fast and easy teach-in. User-friendly HMIs are created with the easy-to-operate KeView visualization software - an optimum user experience is guaranteed.