Drone World Expo being held at the San Jose Convention Center, November 17-18.
SAN JOSE, Calif.--On-site press room - #233 at San Jose Convention Center, Building 3

This week, thousands of end users and drone professionals will convene for the inaugural Drone World Expo, the defining event for the commercial applications of UAS technology, being held at the San Jose Convention Center, November 17-18. The event will offer a world-class education program with presentations from industry leaders representing Verizon Ventures, the FAA, Google X, US Department of Interior, World Wildlife Fund, FOX Sports Media Group, 3D Robotics, Cisco, NASA, UNICEF, US Coast Guard, and others who will share the most up to date information on this quickly expanding market.
"We are excited to open Drone World Expo tomorrow and bring together thought leaders, industry experts and end-users in the heart of Silicon Valley to present real-world solutions to business and environmental challenges," said Joel Davis, President, JD Events, producers of Drone World Expo. "We are grateful to all of our industry partners and our outstanding Advisory Board for helping us develop this world-class event."
Highlights of Drone World Expo, include:
A Dynamic Conference Program: The Drone World Expo Advisory Board has developed an outstanding education program including three keynote/plenary sessions open to all attendees, 30 education sessions and case studies. To view the complete Drone World Expo Conference Session Program, please click here.
* Keynote: Avoiding the Traffic Jam: A Government and Industry UTM Update (Tuesday, 9:00 - 10:00 am) - Hear form David Famolari, Verizon Ventures; Marke "Hoot" Gibson, FAA; Parimal "PK" Kopardekar, NASA and Dr. Dave Vos, Google X, who will center a discussion around the challenges with implementation, timelines, industry involvement, and progress and successes. The discussion will be moderated by Gretchen West, Hogan Lovells.
* The DWE Town Hall Meeting (Tuesday, 3:45 - 5:00pm) - Attendees are invited to bring their questions to our expert panelists who will speak to the most pressing issues and hot topics currently facing the industry.
* Keynote: Drones for Good (Wednesday, 9:00 - 10:00 am) - Lindbergh Foundation chairman and Air Shepherd's leader, John L. Petersen will provide a unique view of how and where drones are making a difference of global impact in a critical, high profile area of using UAS to Stop the Slaughter of Rhino and Elephants in Africa.
Exhibit Hall - Hundreds of applications and solutions will be on display in the expo hall. For a list of exhibitors, click here.
* Tech Talks (Tuesday: 10:15am - 4:45pm and Wednesday: 10:15 - 3:15 pm in Exhibit Hall) - Hear from innovators who are taking drone technology to the next level including Drone for Humanity, Drones and the Next Era of Aviation, 1 Million Acres of Drone Imagery, FAA Compliance Automation Challenges and Benefits, Drones with 3D Depth Data, and Drones are the New iPhone.
* Live Flying Demonstrations (Tuesday: 11:15am - 3:45pm and Wednesday: 10:30 am - 3:30 pm in the exhibit hall) - Join us at the demo cage in the Exhibit Hall to see how featured exhibitors' drones fly. Demos by Yuneec: Tornado H920, Parrot: Bebop, Amimon: CONNEX, DJI: Inspire 1, DJI: Matrice 100, Amimon: CONNEX, and Riderless Aerotech: Sentry - Personal Aerial Support System
* Special Events - DJI's Vice President of Policy will make a major announcement at 3:30pm, Eric Cheng will sign copies of his new book, "Aerial Photography and Videography Using Drones," at 12:00pm, and Mike Winn, Founder & CEO, DroneDeploy will announce a major milestone for the company, tied to a great achievement in drone mapping at 4:15pm; these are among the special events planned.
* Networking Receptions (Tuesday: 5:00 - 6:00 pm and Wednesday: 4:00 - 5:00 pm) All attendees, exhibitors, speakers and press will convene in the Exhibit Hall.
Location, Dates and Hours:
* San Jose Convention Center, Hall 3, 150 W San Carlos St, San Jose, CA 95113
* Tuesday, November 17, 2016 - 9:00 am - 6:00 pm
* Wednesday, November 18, 2016 - 9:00 am - 5:00 pm
Drone World Expo, the defining event for the commercial applications of UAS technology, will take place November 17-18, 2015 at the San Jose Convention Center. For more information, visit www.droneworldexpo.com. The event is produced by JD Events, dedicated to the creation of targeted and innovative industry-leading events that deliver results. The company brings together highly qualified buying audiences, education-rich content and high-level networking opportunities -- all geared toward increasing business transactions in the markets it serves.
Featured Product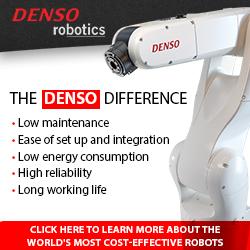 DENSO is the world's largest manufacturer - and user - of small assembly robots, employing over 17,000 of its robots in its own facilities. Over 77,000 additional DENSO robots are used by other companies worldwide. The compact, high-speed robots are used in traditional manufacturing sectors, as well as in advanced-technology applications in the medical, pharmaceutical and life sciences industries. Learn more about DENSO Robotics