For the second year, the Robotics Alley Conference & Expo will offer a free career fair for engineering, manufacturing and technical professionals.
Minneapolis, Minn. November 17, 2015 -- On December 2, 2015, Robotics Alley will host a free Career Fair and Career Development Workshops. These events are open to the public and will expose participants to networking opportunities in the fields of manufacturing, engineering and other robotics and technology-related areas.

The Career Fair will take place from 1:30 p.m. - 4:45 p.m. at the Hyatt Regency Minneapolis. It is presented by the Minnesota Department of Employment and Economic Development as well as MinnesotaWorks.net.
Attendees will have the opportunity to walk both the Career Fair and the Robotics Alley Expo Hall to meet with prospective employers. In addition, during the Career Fair, they will have access to the various robotic exhibits and demos that will be hosted at the show, including a drone flight area, a simulated robotic surgery, and much more.
Career Development Workshops:
2:30 p.m. - 3:15 p.m. : How to Navigate LinkedIn
Mike Lang, Minnesota Department of Employment and Economic Development
Learn successful strategies for job searching on LinkedIn. See how to attract attention to your LinkedIn profile, learn how to make networking connections, research companies, find jobs and more!
3:30 p.m. - 4:15 p.m. : Careers in Demand - Know Your Market
Tim ONeill, Minnesota Department of Employment and Economic Development
Minnesota is home to a very diverse and growing economy. From healthcare to manufacturing to professional services, todays jobseekers can find employment in almost any industry sector. Despite this reality, knowing where and how to look for jobs can be a daunting task. Luckily the Department of Employment and Economic Development (DEED) has the resources to help jobseekers explore careers and find work. In this workshop, attendees will learn about key career-exploration resources, with engineering and computer sciences in mind.
Advance registration is preferred. However, walk-ins are welcome! More information about the event can be found at roboticsalley.org/careerfair.
Interested in exhibiting?
Contact Lindsey Rodriguez for more information on getting involved as an exhibitor:
763-548-1312 or lindsey.rodriguez(at)eventshows.com.
The Robotics Alley Conference & Expo is an annual gathering in Minnesotas Twin Cities that is on pace to become one of the worlds leading conferences on robotics and automation. The event began in Minneapolis in 2011 as an industry-led initiative to spotlight the rapid growth of robotics and automation both globally and in the Midwest. It sought to bring together businesses, researchers, engineers, investors and others to help catalyze the fast-emerging robotics industry in Minnesota and the surrounding region. Since that time, it has grown to attract attendees from across the U.S. and the world. The event features discussion of leading-edge technological developments, world-class speakers and hands-on demos. This years event will take place December 1-2 at the Hyatt Regency Minneapolis. For more information and to register, go to roboticsalley.org.
Featured Product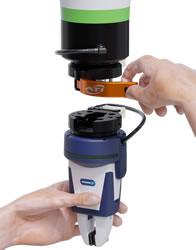 Simpler, stronger, and more precise. ATI Industrial Automation has developed a series of Manual Tool Changers that provides a cost-effective solution for quickly changing tools by hand. They feature a unique design that combines high strength, excellent repeatability, and a patent-pending screw-cam locking mechanism with multiple fail-safe features, which resists vibration and prevents loosening. These robust and compact Manual Tool Changers can handle payloads up to 80 pounds (36 kg) and pass pneumatics and electrical signals.