USGs Plaster City gypsum quarry was selected by Honeybee as the ideal site to test the Planetary Deep Drill.
CHICAGO--USG Corporation (NYSE: USG), a worlds leader in building materials and technologies, today announced it has partnered with Honeybee Robotics, a spacecraft technology and robotics company, on the field testing of Honeybees Planetary Deep Drill System. The field testing, which will take place at USGs Plaster City gypsum quarry in Salton Sea, CA, is part of Honeybees broader Mars exploration program, which aims to better understand the planet and the capabilities needed to send humans to the planet by the 2030s.

"We are honored to be the only company in our industry to play a role in this innovative endeavor to advance planetary exploration and the broader field of science," said Dominic Dannessa, Senior Vice President of Operations and Chief Technology Officer at USG. "We believe innovation comes from inspired thinking inside our company and outside of it, so sharing our geotechnical expertise with Honeybee was a natural fit."
USGs Plaster City gypsum quarry was selected by Honeybee as the ideal site to test the Planetary Deep Drill due to gypsums similarity to cryogenic ice observed on Mars, Enceladus, Europa and other planetary bodies. Honeybee will drill 100 feet into the depths of the gypsum quarry, which is significantly deeper than drills previously deployed to Mars were capable of accessing. The field test will assess the functionality of the Planetary Deep Drill and provide data for future improvements and enhancements.
"After two decades of planetary drilling and sampling, we are excited to partner with USG on this new endeavor and begin testing at Plaster City," said Kris Zacny, Director of the Exploration Technology Group at Honeybee Robotics. "USGs extensive geotechnical knowledge has served as a key asset to us on this deep drilling project."
Drilling at Plaster City will take place from mid-November through mid-December. For more information about USGs participation in this endeavor, visit: www.honeybeerobotics.com/services/space/planetary-exploration/.
About USG Corporation
USG Corporation is a manufacturer and distributor of innovative, high-performance building systems through its United States Gypsum Company, USG Interiors, LLC, and L&W Supply Corporation subsidiaries and its USG Boral Building Products joint venture. Headquartered in Chicago, USG worldwide operations serve the commercial, residential, and repair and remodel construction markets, enabling our customers to build the outstanding spaces where people live, work and play. USG wall, ceiling, exterior sheathing, flooring underlayment and roofing systems provide leading-edge building solutions, while L&W Supply branch locations efficiently stock and deliver building materials throughout the United States. USG Boral Building Products is a leading plasterboard & ceilings joint venture across Asia, Australasia, and the Middle East. USG and its subsidiaries are proud sponsors of the U.S. Olympic and Paralympic teams and the Canadian Olympic team. For additional information, visit www.usg.com.
Featured Product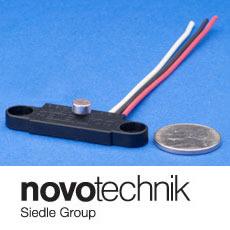 Vert-X 05E Series of dual angle/speed sensors. The series features easy mounting in small and narrow spaces with a 5 mm body depth and mounting flanges with metal inserts. The sensors make measurements only 6 mm from edge of product for close-to-wall measurement applications. Vert-X 05E Series sensors measure angles from 0 to 360°, rotational speed and direction with repeatability to 0.1°.