Rethink Robotics' Sawyer Robot Now Available Throughout Japan
BOSTON, Nov. 19, 2015 -- Rethink Robotics today announced an exclusive distribution agreement with Tokyo-based Sumitomo Heavy Industries, Ltd., to market, service and sell Rethink's Sawyer robot to the Japanese manufacturing community.

Sawyer will be sold to manufacturers in Japan through Sumitomo's distribution channels, helping companies improve production processes by implementing flexible and affordable automation.
As manufacturing strategies across the globe have shifted, Japanese companies are seeking innovative, flexible automation solutions that can improve production and provide a quick return on investment. Japan also boasts one of the largest electronics manufacturing markets in the world, and Rethink Robotics' Sawyer robot is particularly well suited for applications in that industry.
Rethink Robotics is redefining manufacturing across the globe with its family of smart, collaborative robots that can adapt to real-world variability, change applications quickly and perform tasks like people do. Based in Boston, Rethink Robotics pioneered the category of collaborative robots and is now focusing on driving manufacturing growth in Japan.
"Manufacturers in Japan are competing on a global scale, and in order to be successful, they are looking for automation solutions that will help them cater to market demand and meet performance goals," said Masahiro Saito, executive manager, sales department at Sumitomo Heavy Industries. "Many companies have been seeking collaborative robot solutions for the factory, and with Sawyer we can continue to help our customers improve and provide world-class value."
Sumitomo Heavy Industries operates in a broad range of business areas ranging from manufacturing equipment and infrastructure to fields making use of the latest advanced technology. The company's three key areas of focus are plastics machinery, power transmission equipment and precision control devices and key components. The company focuses on cutting-edge solutions and has established key relationships with Japanese manufacturers throughout the country.
Last month, Rethink announced the availability and global deployment of Sawyer, its new high-performance collaborative robot. Japan will be an integral market for the global expansion of Rethink Robotics, and Sawyer will be showcased at the upcoming International Robot Exhibition 2015 (iRex), December 2-5 in Tokyo.
"Manufacturing is a global business, and forward-thinking companies realize the value of adding flexible automation solutions into their production processes," said Scott Eckert, president and CEO of Rethink Robotics. "Japanese companies are eager to implement smart, collaborative robots like Sawyer to achieve efficiencies, improve bottom-line performance and improve competitiveness in a global market. Sumitomo will be an important partner in ensuring that companies in Japan will have the opportunity to deploy our robots for their most critical high-mix applications."
For more information please visit www.rethinkrobotics.com.
About Rethink Robotics
Rethink Robotics is transforming the way manufacturing gets done, with smart, collaborative robots able to automate the 90 percent of tasks that until now, have been beyond the reach of traditional automation. Its Baxter and Sawyer robots, powered by the Intera software platform, adapt to real-world variability, can change applications quickly and perform tasks like people do. The result: manufacturers of all shapes, sizes and industries get the fast-to-deploy, easy-to-use and versatile automation solution they need to increase flexibility, lower cost and accelerate innovation.
Based in Boston, the Rethink product suite is available in Asia, Europe and North America. The company is funded by Bezos Expeditions, CRV, Highland Capital Partners, Sigma Partners, DFJ, Two Sigma Ventures, GE Ventures and Goldman Sachs. For more information about Rethink Robotics, please visit www.rethinkrobotics.com and follow us on Twitter @RethinkRobotics.
Featured Product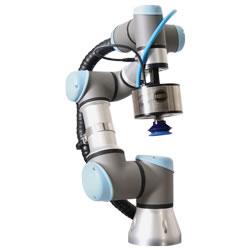 A variety of standard and custom options make the Bimba CRVT the perfect tool for your next collaborative robot project. This completely integrated plug-and-play solution is simple to operate and adds unparalleled flexibility to your collaborative robot.