Robotics Alley has brought back one of its most popular tracks from 2014, the Health Care and Medical Device Track. The conference takes place in Minneapolis, at the heart of one of the nation's largest medical device clusters.
Minneapolis, Minn. November 24, 2015 -- The 2015 Robotics Alley Conference & Expo once again features a dedicated Health Care & Medical Device track.

Health Care and Medical Device sessions include:
* Surgical Robotics: Opportunities in a Competitive Landscape
* The Future of Medical Robotics: Looking Forward 10 Years
* The Regulatory Perspective
* Building a Foundational Development Strategy for a Surgical Robot
* Computers and Software in Medical Robotics - An IP Perspective
Conference attendees will also have an opportunity to hear from keynote speaker Robert High, CTO of IBMs Watson Solutions, and interact with the cognitive computer Watson, which is already in use at the Mayo Clinic. In addition, attendees can see a live demonstration of a bionic exoskeleton from Ekso Bionics that is currently in use by patients with various levels of paralysis.
Minnesota's Twin Cities are home to both Robotics Alley and many of the world's most innovative health care and medical device companies. As a result, the conference is perfectly positioned to showcase how robotics and automation are changing the face of health care. The conference also offers separate tracks focused on agriculture, security and defense, transportation, and more.
This years event will take place December 1-2 at the Hyatt Regency Minneapolis. For more information and to register, go to roboticsalley.org.
About Robotics Alley
The Robotics Alley Conference & Expo is an annual gathering in Minnesotas Twin Cities that is on pace to become one of the worlds leading conferences on robotics and automation. The event began in Minneapolis in 2011 as an industry-led initiative to spotlight the rapid growth of robotics and automation both globally and in the Midwest. It sought to bring together businesses, researchers, engineers, investors and others to help catalyze the fast-emerging robotics industry in Minnesota and the surrounding region. Since that time, it has grown to attract attendees from across the U.S. and the world. The event features discussion of leading-edge technological developments, world-class speakers and hands-on demos.
Featured Product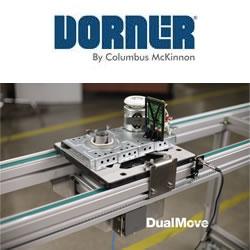 Dorner's 2200 Series Precision Move Pallet Systems are ideal for assembly automation. With features such as an innovative timing belt conveyor design and industry best pallet transfers, they get your product to the exact location, at the exact time and in the exact position it needs to be. They are now available with new options such as heavy load corner modules with 150 lb. capacity and 180 degree tight transfer corners for compact loops.