We are pleased to announce that the visitor registration is now open for the only fully integrated European Unmanned Systems Expo 2016. This is the second edition, which means bigger and better, and will take place from 2-4 February 2016 at the World Forum The Hague, The Netherlands.
TUSExpo is a yearly growing European exhibition and conference addressing real life cases, latest technical developments and legal news.

The value chain of all unmanned industry segments will be represented; drones (air, water, ground), Robotics and Space. TUSExpo ties in perfectly with safety and security, the profile of the City of The Hague.
The event also offers a B2B Matchmaking program in cooperation with Enterprise Europe Network. Visitors, exhibitors and delegates have the possibility to schedule a 20 minutes bilateral business meeting beforehand to increase the profitability of their TUSExpo visit.
Save €75 by pre registering
The benefits of pre registering as a trade visitor include: a 3 day fast track and free of charge entrance to the trade show, a free copy of the show catalogue, access to the live demonstration zone,
the commercial arena, you will regularly receive the latest updates by email and it will give you the possibility to network and gain access to one of the world's fastest growing industry markets.
Featured Product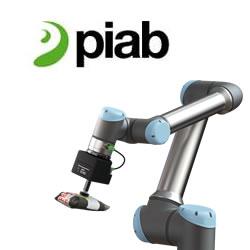 Piab's Kenos KCS gripper enables a collaborative robot to handle just about anything at any time. Combining Piab's proprietary air-driven COAX vacuum technology with an easily replaceable technical foam that molds itself around any surface or shape, the gripper can be used to safely grip, lift and handle any object. Standard interface (ISO) adapters enable the whole unit to be attached to any cobot type on the market with a body made in a lightweight 3D printed material. Approved by Universal Robots as a UR+ end effector.