Facility upgrades will improve energy efficiency and productivity
Rochester, NY December 02, 2015 -- Empire Precision Plastics, a precision molder of optic and intricate molded components, announced today that they are nearing completion on an expansion project that will add 27,000 square feet to their Rochester, NY facility. Numerous upgrades are planned to increase energy efficiency and streamline part production.

Empire plans to significantly increase space for its assembly and secondary operations, with 1,000 square feet dedicated to optics secondary operations such as opto-mechanical assembly and coating. Having acquired the assets of Light Wave Enterprises Inc. in 2012, Empire is one of the only precision plastic molders to manufacture both optic and non-optic tooling in-house.
The companys tool room will triple in size and feature a new technology center with three presses designated for mold try-out. These changes will allow for faster in-house tool build and operation.
"Timelines are important to us and to our customers," Empire President Neal Elli said. "The added tool room space means that well be able to get tools online fast, regardless of where they were built."
The expansion will also include:
* 3600 square feet of office space
* 4,000 square feet of white room space and additional automation systems to streamline medical and optical molding and assembly
* 8,000 square feet of warehouse space to help support vendor-managed inventory and delivery programs such as KanBan and JIT
* Servo-driven robots for higher accuracy
In addition to greater production efficiency, the expansion will incorporate several upgrades for improved energy use. For example, hydraulic presses will be replaced with energy-efficient electric machines, and new material driers will decrease power requirements while improving drying consistency.
"These changes are making our processes leaner, cleaner, more accurate and more efficient," Elli said. "Were excited about the opportunity this gives us to better support our customers at all stages of a project, from design and prototyping through assembly and packaging."
The company will also be looking to hire technical staff in areas such as plastic engineering, mold making, process engineering, and quality assurance. For more information, visit http://www.empireprecision.com/careers.
Empire expects the expansion to be completed in the first quarter of 2016.
ABOUT EMPIRE PRECISION PLASTICS
Empire Precision Plastics (http://www.empireprecision.com) has a 20-year legacy of partnering with customers to solve their most challenging injection molding problems. Empire provides medical device, consumer, industrial and military/aerospace customers with plastic molded parts, from prototype to high volume manufacturing and assembly. Their comprehensive in-house capabilities allow for faster time-to-market and better finished quality, improving profit margins for their customers. Empire Precision Plastics is ISO 9001:2008 and ISO 13485:2012 certified and ITAR registered.
Featured Product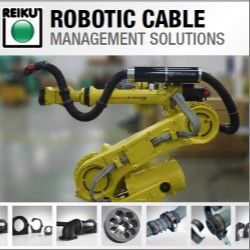 REIKU's Cable Saver™ Solution eliminates downtime, loss of revenue, expensive cable and hose replacement costs, maintenance labor costs. It's available in three sizes 36, 52 and 70 mm. All of the robots cables and hoses are protected when routed through the Cable Saver™ corrugated tubing.The Cable Saver™ uses a spring retraction system housed inside the Energy Tube™ to keep this service loop out of harms way in safe location at the rear of the Robot when not required. The Cable Saver™ is a COMPLETE solution for any make or model of robot. It installs quickly-on either side of the robot and has been tested to resist over 15 million repetitive cycles. REIKU is committed to providing the most modular, effective options for ensuring your robotic components operate without downtime due to cable management. www.CableSaver.com