SmarTech is the leading industry analyst firm covering the 3D printing/additive manufacturing business.
CHARLOTTESVILLE, Va., Dec. 3, 2015 -- In its just-published report, "Additive Manufacturing: Review of Opportunities in Key Industries 2015," SmarTech Markets Publishing, provides detailed 10-year forecasts of 3D printing (3DP) deployments in five key end user markets: Aerospace, Automotive, Medical, Dental and Jewelry.

SmarTech is the leading industry analyst firm covering the 3D printing/additive manufacturing business. This report utilizes the granular economic models that SmarTech has constructed for the 3DP sector over the past three years.
Printer manufacturers, providers of print solutions and services, and potential print technology and component developers will find this report to be an unprecedented insight into SmarTech's market data and analysis and a "must read" for planning future initiatives in the 3D printing industry for 2016 and beyond. In addition, the investment community will find in this report a guide to where value will be created in the 3DP sector.
More information on this report including a full Table of Contents and List of Exhibits, as well as an extract from the report itself can be found at:
http://www.smartechpublishing.com/reports/additive-manufacturing-review-of-opportunities-in-key-industries-2015
Additive manufacturing continued expanding in 2015, although the market-wide growth experienced in 2013 and 2014 were more focused in particular areas and technologies with others seeing only moderate growth. Key adopting industries continued investing significantly in research and development projects, hardware, and expertise. This activity has continued to advance solutions and applications for various print technologies for prototyping, tooling, and most importantly final part manufacturing.
Highlights of this report:
Access to key market data and analysis featured across five key industries that are driving the burgeoning 3DP/additive manufacturing revenues. The areas of opportunity for 3DP in 2016 and beyond are also identified and quantified
Market data included in this report features 10-year forecasts of revenues for various 3D printing technologies, materials, printing services, software, as well as printer shipments by each print technology category across the five major adopting industries.
Analysis of the business potential by type of 3DP printing technology. Technologies covered comprise Polymer Powder Bed Fusion, Metal Powder Bed Fusion, Photopolymerization, Material Extrusion, Material Jetting, Binder Jetting, Directed Energy Deposition and Laminated Object Manufacturing
Included is a penetrating analysis of the major driving adoption trends and findings in each industry segment of 3D printing, as well as a wealth of in-depth market forecast data as modeled by SmarTech's industry leading methodologies and market models for 3D printing technology.
About SmarTech:
SmarTech Markets Publishing is the leading provider of industry analysis for the 3D printing/additive manufacturing sector.
See more: www.smartechpublishing.com
Featured Product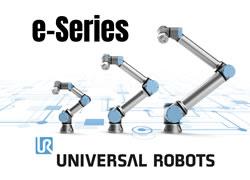 With the new e-Series cobot line, Universal Robots raises the bar for cobots, adding unique new features while significantly strengthening the four core principles defining collaborative robots: fast set-up, easy programming, flexible deployment, and safe operation. With a new built-in, tool-centric Force/Torque sensor the e-Series is ready to take on applications requiring force control right out of the box. A repeatability of 30 micron means the new cobots are suitable for very precise finishing, assembly and electronics tasks. A re-designed user interface decreases cognitive load and expedites program development, while a new externally accessible, 500Hz system bus enables more complex motion control algorithms or profiles.