Consumer drones in four models available starting at $499
LOS ANGELES, Dec. 10, 2015 -- AEE Technology Inc., a global leader in the action camera and drone industry, today announced they will be exhibiting at the second annual International Drone Expo in Los Angeles on December 11-12, 2015. The expo will take place at the Los Angeles Convention Center and will feature over eighty exhibitors and play host to over 6,000 attendees. AEE Technology will be at booth #531 in the main exposition hall.

The annual event, sponsored by such big names as Tesla, NASA and CNN is the largest drone expo and business conference ever held. IDE 2015 will also include extensive workshops on everything related to drones and small unmanned aircraft systems (sUAS).
AEE Technology is a leader in consumer drones. Their AP line of drones feature a wide range of features, from smartphone controls to a "Follow Me" feature that will enable the drone to automatically follow the user without any use of the controller. While the "Follow Me" feature is on, the drone will independently follow the user 45 feet away and 45 feet angled. The drone will always face forward towards the user and record simultaneously. AEE AP drones also have flight times between 20 and 25 minutes and a maximum flight velocity of 65 ft/s. The AP9 features mounts for the various models of AEE action cameras, while the AP10 Pro features a built-in 16 megapixel wireless HD FPV camera. The AP11 model houses a 3-axis gimbal for AEE action cameras, as well as an auto-hover option.
In addition to exhibiting at the event, AEE will also be unveiling a new drone model, the AP12. Information for the two new models has not yet been released and will be premiered exclusively at the event. AEE will also be conducting demonstrations of their commercial drones, the F50A and F100A.
AEE recently announced some major retail distribution deals for their AP9, AP10 and AP10 Pro drones with DICK's Sporting Goods, BJ's Warehouse and Fry's Electronics locations across the United States, as well as on their respective websites.
"We are greatly looking forward to exhibiting at IDE," says AEE's USA Branch Office Director David Deng. "The use of drones is becoming increasing popular for professional and private use, and AEE drones are at the forefront of aerial photography technology. We are continually pushing the boundaries with drone technology and making that technology available to consumers across the globe."
Drones are becoming an increasingly popular hobby and useful tool for photographers and businesses. In recent years, drones have become a widespread outdoor activity, with the FAA predicting sales to top $90 billion in the next decade, with over 400,000 units being sold each month in 2015.
To learn more, visit https://www.aeeusa.com
About AEE
Established in 1999, AEE Technology Inc. has been dedicated to develop and manufacture professional, advanced and reliable recording equipments, which includes action camera MagiCam models, police recording equipments, UAV (unmanned aerial vehicle) system and aerial photography devices. As a pioneer in combining the advantage of wireless audio & video transmission technology, image processing technology and intelligent control technology, AEE focuses on developing breakthrough and innovative electronic technology products. AEE products have already been distributed across large chain retail outlets in over 55 countries and regions all over the world.
Featured Product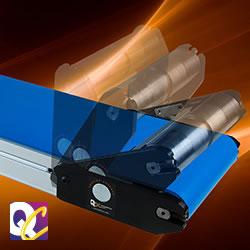 AS40 Conveyors are designed for ease of use and simple integration with robotic applications. Built on a rigid aluminum frame, they feature tee slots for rapid accessory mounting and a tail that flips up at the push of a button for easy under-belt cleaning and belt changes. Nosebar tails are available for transferring small parts between conveyors. All conveyors include a 10 Year Warranty and most are available with a fast five day lead time.