Prototype to be unveiled at CES 2016
LONDON--Intelligent Energy, the energy technology company, announced today it has developed a prototype of a hydrogen fuel cell powered range extender for drones. The range extender offers longer flight time and fast re-fuel capabilities, addressing two of the biggest challenges for manufacturers of battery-powered drones. Intelligent Energy will unveil its prototype of the fuel cell range extender on a drone at CES 2016, January 6-9 in Las Vegas. The company has been really encouraged by the positive reaction from potential customers to this prototype.

The lucrative market for commercial and enterprise drones is rapidly growing. However it is currently held back by the short range and long recharging times associated with batteries. By combining an ultra lightweight fuel cell stack with a battery, Intelligent Energys range extender offers up to several hours of drone flight time rather than the typical 20 minutes maximum flight times seen today. In addition, fuel cells can significantly reduce the downtime currently required for recharging between flights - from one to two hours to an average of two minutes.
"Drones are one of the most exciting new technologies. Even with advanced batteries their value is limited. For commercial use, they need to offer better flight times and range," said Julian Hughes, Group Business Development Director and Acting Managing Director for Intelligent Energys Consumer Electronics Division. "That will all become possible with the release of our range extender platform. A longer flight time coupled with a quick re-fuel opens a wide range of new commercial possibilities for businesses such as drones for inspection of offshore platforms, search and rescue, high quality aerial photography, precision agriculture and parcel delivery and more. Given we also have the ability to tailor solutions to customer requirements, this could completely revolutionize the potential of drone technology."
In the last decade Intelligent Energy has worked with Boeing Phantom Works to power the worlds first manned fuel cell aircraft in commercial airspace and with Airbus for an auxiliary power unit. For the past 14 months it has independently tested drones with fuel cell and battery hybrid systems. Flight tests were conducted on two configurations: one solely powered by a hydrogen fuel cell, the other powered by a fuel cell-battery hybrid system. A camera was operated on the test flights and was found to record a steady image with no interruptions, a critical feature for commercial drone use.
Intelligent Energys prototypical hybrid fuel cell drone range extender will be shown at a special Intelligent Energy Embedded World event at CES 2016. Attendees will get a first-hand look at the impact fuel cells can have on devices, ranging from smartphones and tablets to drones. Intelligent Energy will be introducing Embedded World at The Venetian Hotel on Tuesday, January 5 - Saturday, January 9 in Las Vegas. To make an appointment to discover how embedded fuel cells could power your consumer electronics device or to view the prototype and speak to an Intelligent Energy expert, please email: julian.hughes@intelligent-energy.com or callie.mortimer@intelligent-energy.com
About Intelligent Energy
Intelligent Energy Holdings plc is an energy technology group which develops efficient and clean hydrogen fuel cell power systems for the global automotive, consumer electronics, distributed power and generation markets - from powering zero-emission vehicles to compact energy packs for mobile devices and stationary power units for the always-on infrastructure.
Working with international companies, Intelligent Energy aims to embed its technology in mass market applications to solve the challenges of continuous power and productivity, by creating everyday energy solutions to power peoples lives. The Groups intellectual property and expertise is based around proprietary fuel cell technologies, which are the product of over 25 years of research and development. Its patent portfolio includes more than 1,000+ patents granted and 1,000 patents pending across over 400 patent families. The Group also maintains a significant body of confidential know-how and trade secrets.
With its principal facility and headquarters in Loughborough, UK, the company also has operations in India, Japan and Singapore, a commercial office in Silicon Valley, USA and development facilities co-located at the French Alternative Energies and Atomic Energy Commission in Grenoble and at NASA in Florida, USA. Intelligent Energy Holdings plc is listed on the London Stock Exchange and has an ADR program in the USA (LSE: IEH; ADR: INGYY).
More information on Intelligent Energy is available at Twitter, YouTube and LinkedIn. Or visit http://www.intelligent-energy.com.
Featured Product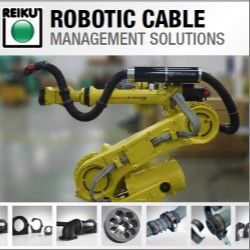 REIKU's Cable Saver™ Solution eliminates downtime, loss of revenue, expensive cable and hose replacement costs, maintenance labour costs. It's available in three sizes 36, 52 and 70 mm. All of the robots cables and hoses are protected when routed through the Cable Saver™ corrugated tubing. The Cable Saver™ uses a spring retraction system housed inside the Energy Tube™ to keep this service loop out of harms way in safe location at the rear of the Robot when not required. The Cable Saver™ is a COMPLETE solution for any make or model of robot. It installs quickly-on either side of the robot and has been tested to resist over 15 million repetitive cycles.