Global Capacitor Manufacturer Realizes Significant Savings with Smart, Collaborative Baxter Robot
BOSTON, Dec. 16, 2015 -- Cornell Dubilier, the largest power capacitor company in North America, has deployed two Baxter robots within its manufacturing plant in Liberty, SC to streamline its capacitor labeling and inspection processes, fill gaps in production and increase flexibility.

Baxter is being deployed to complete two applications at Cornell Dubilier. In the first instance, Baxter works on the line to load and unload a conveyor that places a label on each capacitor. Previously, this was a tedious manual process that used a significant amount of the operator's time and effort. With Baxter, the human operator is free to complete more complicated tasks. A second Baxter is deployed in the inspection of new capacitor installations; the robot uses a vision system developed in a Cornell Dubilier research and development lab to load and unload parts for inspection.
"What's unique about our industry is that nearly everything needs to be customized or built in-house," said Daniel Brazinski, manufacturing manager at Cornell Dubilier. "When we've looked to automate our processes in the past, the price is well into six figures. Baxter allows us to significantly cut that price tag, while more effectively and flexibly achieving our automation goals."
Cornell Dubilier's roots can be traced back to 1909 when founder William Dubilier used the glass mineral mica to form a capacitor, revolutionizing radio broadcast communications and allowing for stronger signal transmission over longer distances. Today, Cornell Dubilier has more than 35,000 customers who use their capacitors for aircrafts, laser medical technology, alternative energy, welders and generators.
"Implementing automation has traditionally been a very expensive and rigid process, but forward-thinking manufacturers like Cornell Dubilier are using Baxter to become far more agile," said Jim Lawton, chief product and marketing officer of Rethink Robotics. "Baxter provides the company with a level of flexibility and affordability that other automation simply cannot provide, and it's positively impacting the bottom line for both Cornell Dubilier and its customers."
Baxter has also become a litmus test of sorts for the Cornell Dubilier team, testing new equipment and process changes to see if employees can easily perform the task. The team is actively looking at more applications for the robot, and has already identified six more tasks in the Liberty facility alone where Baxter may be deployed.
For more information, please visit www.rethinkrobotics.com.
About Rethink Robotics
Rethink Robotics is transforming the way manufacturing gets done, with smart, collaborative robots able to automate the 90 percent of tasks that until now, have been beyond the reach of traditional automation. Its Baxter and Sawyer robots, powered by the Intera software platform, adapt to real-world variability, can change applications quickly and perform tasks like people do. The result: manufacturers of all shapes, sizes and industries get the fast-to-deploy, easy-to-use and versatile automation solution they need to increase flexibility, lower cost and accelerate innovation.
Based in Boston, the Rethink product suite is available in Asia, Europe and North America. The company is funded by Bezos Expeditions, CRV, Highland Capital Partners, Sigma Partners, DFJ, Two Sigma Ventures, GE Ventures, and Goldman Sachs. For more information about Rethink Robotics, please visit www.rethinkrobotics.com and follow us on Twitter at @RethinkRobotics.
Featured Product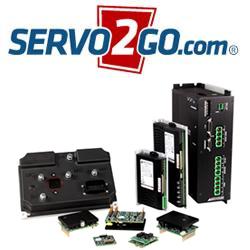 Engineered to drive brushless and brush servomotors in torque, velocity or position mode, Servo2Go.com offers a broad selection of servo drives in a wide range of input voltages and output power levels.