On January 6th 2016 TCT Magazine + Personalize, part of The TCT Group, will present a stellar program of 3D Printing speakers at CES 2016, the worlds most exciting annual technology event.
Chester, UK December 16, 2015 -- The theme for TCTs 3D printing conference at CES 2016 is 3D Printing: Catalyst for Innovation. Across the 6th of January TCT will be spotlighting new 3D printing technologies, innovative use cases, addressing some serious issues regarding how brands can leverage — and protect themselves from — 3D printing, and exploring the business opportunities for consumer facing entities.

The speakers at this annual 3D printing education event are once again skimmed from the very top of the industry, representing the bleeding edge of technology and application development, thought leadership, analysis and business development within 3D printing.
This years speakers will include:
Jennifer Lewis, Voxel8; Scott Schiller, HP; Girish Wable & Bill Garon, Jabil; Kegan Schouwenbur, SOLS; Andrew Rush, Made in Space; Scott Sellwood, Source3; Kerry Parker, WhiteClouds; Joe DeSimone, Carbon3D; Todd Grimm, T.A. Grimm Associates; Andre Wegner, Authentise; and Joe Kempton, Canalys.
Jim Woodcock, Head of Content for The TCT Group commented: "Our third 3D printing program at CES is arguably our strongest, with an unprecedented breadth and depth of talent on the stage. In keeping with our mission to Accelerate 3D Technologies, I believe the 3D printing conference at CES 2016 will deliver business critical information to current and potential users of 3D technologies, regardless of their industry.
"With both new technologies from HP, Carbon3D and Voxel8 presented alongside cutting-edge applications from the likes of SOLS and Made in Space it will be sure to keep attendees engrossed for the whole day."
Registration is now open via CES website.
Past delegates at the TCT 3D Printing Conference at CES have included:
Airbus, Amazon, Avery Dennison, Best Buy, BMW, Bosch, Canon, DoD, Exxon, Facebook, Fujifilm, General Mills, Georgia Pacific, Glidewell, HP, HTC, Hyundai, IBM, Intel, Kimberley-Clark, Konica Minolta, Microsoft, Mitsubishi, Nokia, Northrop Grumman, Osram, Phillips, PING, Raytheon, Teknor Apex, Tencent, Volkswagen and Walmart.
About TCT Magazine + Personalize and The TCT Group
The official name of the 3D technologies magazine is TCT Magazine + Personalize, please refer to it as such in the first instance shortening to TCT thereafter. TCT Magazine + Personalize is part of The TCT Group. The TCT Groups mission is to accelerate the adoption of 3D technologies for design, development and manufacture across all industry sectors. Our events, publications, websites and digital products deliver business-critical insights on 3D printing, additive manufacturing, CAD/CAE, metrology and inspection, as well as traditional manufacturing processes such as molding, casting and CNC machining. For further information see http://www.thetctgroup.com
Featured Product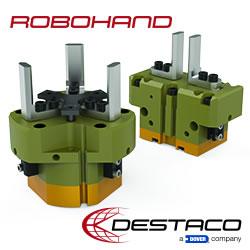 Automatically change end effector tooling quickly and easily with Destaco's Automatic Tool Changers. Designed with exceptional repeatability, high rigidity and load capacity, they are perfect for multiple tooling applications utilizing one robot. We offer different models and sizes to handle light-duty to heavy-duty applications. Our RQC/RTP Series provides a high level of flexibility with a configurable, modular design that accommodates up to four optional modular interfaces.