A New Global Showcase for Selling Drone Technology
LOS ANGELES, Dec. 23, 2015 /PRNewswire/ -- After a year and a half of development Drone-Classifieds new global market portal was activated today and is scheduled for full release on January 1st.

Drone-Classifieds provides a free platform for individuals, new developers and marketers around the world to sell their new or used equipment or their latest unmanned developments making them immediately available to anyone with an internet connected device.
General Manager, Edna Aletky, noted that "for at least the next six months the site will randomly select a winner from each batch of 500 listings created on Drone-Classifieds and give them a cash reward of $100 dollars. A DJI Phantom 3 will also be given to someone out of each 2500 listings created on the site." Winners will be posted on the site as they are selected.
This advance listing portal allows the user virtually unlimited space to present their products including any number of images, video links, technical documents and sales sheets. Drone-Classified is completely searchable by category, keyword or tags and includes an advanced complex search tool to immediately locate specific items out of a million plus listing capacity. Listings are self administered and do not expire until the seller removes them.
Aletky remarked that "all the unlimited listings in airframe, equipment, hardware, parts and accessories categories are provided free of charge." Drone-Classified is concurrently building a large library of support documentation such as equipment manuals along with educational, technical and regulatory documents to serve drone users with one stop on the internet for almost any kind of archival information they might need. It also includes a live event calendar available free to promoters of any unmanned events, seminars, webinars or educational sessions.
Free career listings on Drone-Classifieds also addresses the problem of connecting qualified operators, pilots, observers, payload specialists and other technicians with potential employers. These listings also include unlimited document attachments, video links, images and self promotional materials.
"Buyers will appreciate the wide range of customizable features available to them such as automatic notification when a new item of interest is posted for sale," Aletky said. Sellers will have full control of their listings and a direct connection to their potential buyers with no middleman to cut into their profits.
About ROTOR FX LLC
ROTOR FX LLC is a veteran owned privately held company based at the Van Nuys airport in Van Nuys, California (Los Angeles) and has roots in commercial unmanned systems reaching back to 1996. The company is a full FBO and FAA flight school for airplane and helicopter and is currently one of the only full hands-on private drone training schools in the USA. Drone flight school graduates range from individuals and company members to NASA and the military with instruction being provided both domestically and onsite overseas. The company designs and develops unmanned systems for industrial, commercial, scientific and defense applications as well as specialty systems and props for Hollywood. ROTOR FX holds an FAA 333 Exemption and approved movie manuals for both UAS and conventional aircraft.
Featured Product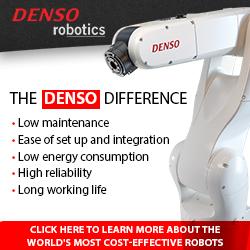 DENSO is the world's largest manufacturer - and user - of small assembly robots, employing over 17,000 of its robots in its own facilities. Over 77,000 additional DENSO robots are used by other companies worldwide. The compact, high-speed robots are used in traditional manufacturing sectors, as well as in advanced-technology applications in the medical, pharmaceutical and life sciences industries. Learn more about DENSO Robotics