The X-LRQ-E Series devices are Zaber's recently released industrial-style stages, combining high load and thrust capabilities in a compact size. The dual-rail design has a low profile measuring only 36 mm high, with a 100 kg load capacity.
The bu
ilt-in motor encoder allows closed-loop operation and slip/stall recovery features with an optional indexed knob for manual control. Like all of Zabers X-Series products, the X-LRQ-E is able to daisy-chain with other Zaber products, and is able to share a single power supply with multiple X-Series products.
Featured Product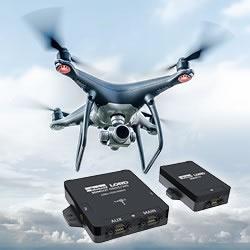 The C-series high performing inertial sensor package provides an OEM form-factor that is optimized for size and weight in Off Highway, Unmanned Ground Vehicles/Mobile Robots and Unmanned Aerial Systems. It's compact and low-profile anodized aluminum housing can be connected directly to a printed circuit board using a UART header or a Samtec FFSD ribbon cable and 2-56 fasteners.