Zaber's new product, the X-NMS-E Series, simplifies motion control by incorporating a built-in controller and motor encoder. Capable of over 25,000 microsteps per revolution and up to 2800 rpm, this compact stepper motor includes a detachable home sensor and small magnet. An additional, optional away sensor is also available.
Like a
ll of Zabers X-Series products, the X-NMS-E is able to daisy-chain with other Zaber products, and is able to share a single power supply with multiple X-Series products.
Featured Product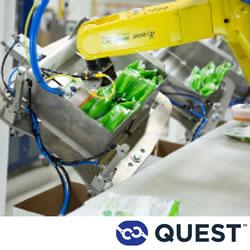 Quest is a leading manufacturer of industrial automation equipment focusing on robotics and vision-guidance. With expertise in the food, beverage, and dairy, Quest optimizes floor space for customers experiencing growing demand and helps improve their overall production line flexibility and efficiency. Quest offers application-specific software on their robotic products, including pick and place, case packing, and palletizing systems to simplify system setup and streamline configurability. Quest is a product brand of ProMach, a global leader in packaging line solutions.