Zaber's new product, the X-NMS-E Series, simplifies motion control by incorporating a built-in controller and motor encoder. Capable of over 25,000 microsteps per revolution and up to 2800 rpm, this compact stepper motor includes a detachable home sensor and small magnet. An additional, optional away sensor is also available.
Like a
ll of Zabers X-Series products, the X-NMS-E is able to daisy-chain with other Zaber products, and is able to share a single power supply with multiple X-Series products.
Featured Product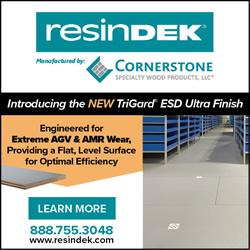 We know that the durability and condition of floors are important for optimal performance of AGV's and AMR's. Coefficient of friction, surface roughness, floor flatness, gloss, and wear can all affect the ability of robots to run at their peak performance. That's why we go to great lengths to extensively test internally and send our products to be evaluated by independent laboratories as well as the robotic manufacturers. In addition, we can customize the finish for any specification required.