Zaber's new product, the X-NMS-E Series, simplifies motion control by incorporating a built-in controller and motor encoder. Capable of over 25,000 microsteps per revolution and up to 2800 rpm, this compact stepper motor includes a detachable home sensor and small magnet. An additional, optional away sensor is also available.
Like a
ll of Zaber's X-Series products, the X-NMS-E is able to daisy-chain with other Zaber products, and is able to share a single power supply with multiple X-Series products.
Featured Product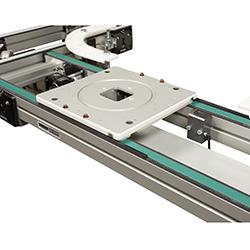 Dorner's 2200 Series Precision Move Pallet Systems feature the latest advancements in pallet traffic management. A unique pin tracking system guides pallets through merges and curves while maintaining product orientation. The fast belt change capability increases efficiency and reduces downtime in assembly automation processes. They are available in lengths up to 25 ft., can handle loads up to 500 lbs. and travel at speeds up to 114 ft/min.