CES 2016: Orbbec will showcase the Astra 3D sensor and world's first 3D camera-computer, the Orbbec Persee
A leader in 3D sensor microchip technology, Orbbec is accelerating its development as an independent high-tech start-up. Since Apple acquired PrimeSense and Intel is promoting its RealSense 3D camera, the technology world has been investing in and eagerly anticipating when 3D technologies will become the benchmark for intelligent computing. One company well positioned to ride that wave of growth is Orbbec.

Orbbec is committed to producing superior 3D hardware as well as building software development kits (SDK) that enable coders and developers to deliver amazing 3D experiences.
The Orbbec Astra 3D cameras are already being used by businesses to bring ideas and solutions to life and to give their customers more engaging experiences in 3D. 30,000 units of the Orbbec Astra 3D cameras are shipped per month around the world.
Orbbec is now building an efficient production assembly line for the Orbbec Astra and Orbbec Persee to meet future demand. Currently, Orbbec is the only company among all 3D sensor providers to have an independent production line (i.e., does not rely on third-party manufacturers), which can keep the costs of their products low and prices competitive.
Says Howard Yuanhao Huang, Founder and CEO of Orbbec: "Our 3D world needs computers that can see in 3D. We need computers that can see, hear, understand and make sense of the world around them. What Orbbec can offer is the customization of our 3D platform for our business customers, to leverage the power of 3D that can fully enhance the user experience for their products."
Orbbec is already aligning closely with original equipment manufacturer (OEM) partners to embed Orbbec's patented technology into a broad array of applications - in design, manufacturing and R&D - and is working in partnership with manufacturers, industry and institutions.
Orbbec's 3D applications include:
Gesture control
Gaming
Robotics
Facial recognition
Surveillance cameras
AR/VR
3D scanning
Orbbec's 3D technologies are open platform that supports Windows, Android, OS X and Linux systems.
Featured Product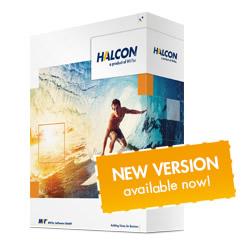 The newest version of MVTec HALCON is here to solve all of your machine vision tasks at utmost speed and robustness! Deep learning functions, like pixel-precise semantic segmentation or object detection, help you to identify and classify objects and flaws more flexibly and easier than ever before - HALCON extracts relevant image information automatically. Try it for free here!