1500 Watt 1U High DC-DC Converter is a High Power Low Profile DC-DC Converter ideal for harsh environment industrial applications. TDDC Series.
Technology Dynamics Inc. Bergenfield, NJ announces the new TDDC Series of Rugged, Harsh Environment DC-DC Converters. This unit is designed for applications found in Military, Industrial, Commercial and "COTS" Military programs including Communications, Data Storage, Automation and Energy. Available output voltages include 12V, 28V & 48VDC with power levels up to 1500 Watts. Can be easily modified for Rack Mount or Panel Mount applications. Forced Current Share make them ideal for Parallel or Redundant (N+1) requirements. Custom output voltages available, contact us for you exact needs.

Features Include:
• Wide Input Range (18-32VDC)
• Compact Size 1U High
• Forced Current Sharing
• Fan Cooled
• Heavy Duty Output Terminations
• Remote Inhibit
• Rugged Construction
• Designed To Meet MIL-STD-810 & 461
• OV,OL,OT Protected
Available Options:
• Rack Mount/Panel Mount
• Conformal Coating
• Parallel/Redundant Operation
• Remote Voltage Adjust
PRICING: Contact Sales for Production Quantity discounts.
DELIVERY: 4-6 Weeks ARO
About us: Since 1976, Technology Dynamics Inc. is America's premier supplier of rugged power conversion equipment. We have a full line of Power Conversion Products including AC-DC, DC-DC Converters and DC-UPS Systems for most Industrial, Commercial, and Military applications. For more information, contact Mark Jacobus, mark@theallpower.com 201-385-0500 Ext 124
Featured Product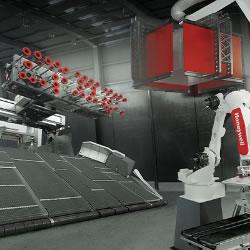 Honeywell Intelligrated is recognized by the Robotic Industries Association (RIA) as a Certified Robot Integrator, with more than a quarter-century of experience providing single-source robotic solutions for high-performance distribution and manufacturing operations. From system concepting, simulation, fabrication and integration to installation and commissioning, training and ongoing support, each solution is approached with a comprehensive lifecycle view to maximize the value of your system.