The Internets largest retailer of DJI Phantom drone systems focuses on providing top-tier products for serious enthusiasts and professional drone operators in 2016.
As 2015 came to a close, so did all future sales of the lower level Phantom 3 Standard model drones for the Phantom bundle kit specialists at Drone-World.com. Drone-World.com will also no longer be selling the newly released DJI Phantom 3 4K since it lacks features the Phantom 3 Professional has. Both the P3 Standard and the P3 4K models are not equipped with the highly popular DJI Lightbridge system allowing for 4x better flight range and an HD quality live video stream, which the Phantom 3 Professional has.

"Our customers have a firm grasp of drone tech specs and will not settle for sub-par drone technology and features" says managing member Stephen McKenna. "As a premiere retailer, it is our responsibility to provide our customers with the best products available and that is what we are doing by retaining our commitment to the DJI Phantom Professional and choosing to liquidate our inventory of the Phantom 3 Standard and P3 4K models."
Drone-Worlds decision to alter its inventory has largely been based on the needs and demands of an ever-increasing population of customers that want the best performance and quality from a DJI drone system.
"The new Phantom 3 4K drone does not have the ultra quick GPS lock and better connection of the Glonass Russian Satellite System. Additionally it does not have HD video feed to your device, decreases operational range and flight to .5 miles as opposed to the 3 mile range found in the Phantom 3 Professional, and the ability to overcome interference from ordinary home routers operating on the 2.4ghz spectrum," says Customer Service Technician Timothy Estrada. "We fear end users will experience twice the number of accidents with these new drones when compared to the capabilities found in the DJI Phantom 3 Professional."
In addition to remaining steadfast in providing drone enthusiasts and professionals with the best products and service on the market, Drone-World.com adds yet another upgrade option to their catalog. Originally introduced with first DJI Inspire 1 'upgrade kit, the DJI Inspire 1 Pro and DJI Inspire 1 V2.0 dual remote 'upgrade kits come with a slew of high-end accessories.
"We are actual pilots using these drones for commercial purposes so we know first hand how important it is to have your bases covered and thats why we are including another upgrade solution for our customers" says Stephen McKenna.
These newly added upgrade kits include: a faster triple battery charger, a set of industry 1st ultra HD multi-coated lens filters, durable wheeled hard carrying case, an additional high capacity 5800mAh TB48 battery, faster read/write speed memory cards with a two times longer cycle life than stock and a free flip 360 mini drone.
Seen nowhere else, Drone World also continues to offer a free 2016 modeled compact backpack (valued at $149) for their most popular drone kits, the Phantom 3 Executive Kit and Pro Upgrade Kits, Pro upgrade and both new Inspire 1 Pro & V2.0 kits, as well as a free mini drone.
As part of their Winter Blow out special, Drone World is giving 15% off all Drone World™ brand accessories with coupon code ACC15 for a limited time only.
About Drone World: Drone-World.com is the webs preferred destination for consumer and professional unmanned aerial drones, kits and accessories. Combining superior customer service and know-how with 5 years of experience. They specialize in custom DJI & Phantom 3 bundle kits including the recently released DJI Phantom OSMO, Inspire 1 V2.0 and Inspire 1 Pro.
Featured Product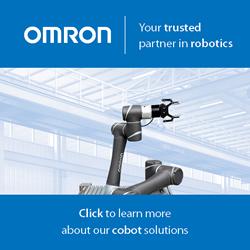 Humans and robots can now share tasks - and this new partnership is on the verge of revolutionizing the production line. Today's drivers like data-driven services, decreasing product lifetimes and the need for product differentiation are putting flexibility paramount, and no technology is better suited to meet these needs than the Omron TM Series Collaborative Robot. With force feedback, collision detection technology and an intuitive, hand-guided teaching mechanism, the TM Series cobot is designed to work in immediate proximity to a human worker and is easier than ever to train on new tasks.