Leading U.S. Event Hosts Expert Talks, Technology-Packed Exhibition Hall, and Unmatched Networking Opportunities
SANTA MONICA, Calif., Jan. 19, 2016 /PRNewswire/ -- Today UBM's annual design and manufacturing event announced the blockbuster keynote lineup for the 2016 show, bolstering what is already the most robust event of its kind, taking place February 9-11 at the Anaheim Convention Center.

For the first time the event will host daily keynotes, which are complimentary for everyone attending. This year's keynotes are led by some truly innovative visionaries, including:
February 9: Dave Zaboski, Creator
Known as a 'creativity sage', Zaboski, is a classically trained artist with an illustrious career as an animator and illustrator. Having worked with Disney, Sony and Warner Brothers, he will show attendees how to cultivate the five 'Creative Keys' that will lead to their creative mastery.
February 10: Ray Kurzweil, Author, Inventor, & Futurist
Kurzweil is considered one of the world's leading inventors, thinkers, and futurists - described as "the restless genius" by The Wall Street Journal, and the "rightful heir to Thomas Edison," by Inc Magazine. Attendees will hear how science, technology, and invention intersect to create the future as we know it.
February 11: Dominique Courbin, Director of Production, Limbitless Solutions; and Stephanie Valderamma, Creative Director, Limbitless Solutions
Dedicating their lives to using innovation for good, Courbin and Valderamma work with a non-profit organization devoted to building a generation of innovators who use their skills and passion to improve the world around them. Attendees will leave inspired and ready to use their skills to create change.
For more details on these keynote presenters, visit: anaheim.ubmcanon.com/keynotes
To view the full conference agenda, visit: anaheim.ubmcanon.com/conference-anaheim
This event includes six co-located expos taking place February 9-11, 2016 at the Anaheim Convention Center in California; MD&M West, WestPack, Pacific Design & Manufacturing, PLASTEC West, Electronics West, the ATX West automation expo.
To register for the event, visit: anaheim.ubmcanon.com/
To apply for a media pass, visit: mdmwest.mddionline.com/press-registration
About Advanced Manufacturing Expos & Conferences
UBM's Advanced Manufacturing portfolio is the leading B-to-B event producer, publisher, and digital media business for the world's $3 trillion advanced, technology-based manufacturing industry. Our print and electronic products deliver trusted information to the advanced manufacturing market and leverage our proprietary 1.3 million name database to connect suppliers with buyers and purchase influencers. We produce more than 50 events and conferences in a dozen countries, connecting manufacturing professionals from around the globe. The Advanced Manufacturing portfolio is organized by UBM Americas, a part of UBM plc (UBM.L), an Events First marketing and communication services business. For more information, visit ubmamericas.com.
Featured Product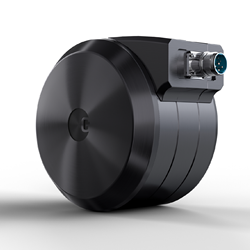 Welcome to the next generation of robotics and machinery. LiveDrive LDD is a unique direct drive motor that overcomes almost every limitation of servo geared solutions. A 50% reduction in length from typical geared motor is possible with Genesis direct drive motors. Choose to simplify machine designs and have a shorter footprint while having high performance, accuracy, and efficiency.