Labor Trends and Economic Factors Will Drive the Global Agricultural Robotics Market to $73.9 Billion in Revenue by 2024
The demand for agricultural robots is being driven by the global trends of population growth, increasing strain on the food supply, availability of farm labor, the cost of farm workers, shrinking farmlands, climate change, the growth of indoor farming, and the automation of the agriculture industry. According to a recent report from Tractica, the applications for agricultural robots will be diverse and will include driverless tractors, unmanned aerial vehicles (UAVs), materials management, field crops and forest management, soil management, dairy management, and animal management.

The market intelligence firm forecasts that the worldwide market for agricultural robots will increase from $3.0 billion in 2015 to $73.9 billion in 2024. Among the types of robots used for agricultural purposes, driverless tractors will generate the lions share of revenue ($30.7 billion by 2024) while agricultural drones will be most prevalent in terms of unit shipments (411,000 by 2024).
"The agricultural robotics market is in its early stage of development," says research analyst Manoj Sahi. "For sustainable growth in revenues, industry participants will need to pursue truly innovative technology and clear value propositions. The agriculture market is looking for more efficient solutions in terms of time, labor, and energy, rather than perfect ones."
Sahi adds that large companies should focus on the key areas that need infrastructural changes in agriculture, instead of building products for niche agricultural issues. Tracticas analysis indicates that medium-size companies and startups should look for opportunities to fit as complementary players with the large companies. Success in the market, says Sahi, will require the development of a highly collaborative and cooperative industry ecosystem.
Tracticas report, "Agricultural Robots", examines global market trends for agricultural robots and provides 10-year market sizing and forecasts for agricultural robot shipments and revenue during the 2015 to 2024 timeframe. The report focuses on market drivers and market challenges, as well as assessing the key technology issues that will influence market development. In total, 42 key and emerging industry players are profiled. Market forecasts are segmented by world region and application type. An Executive Summary of the report is available for free download on the firms website.
About Tractica
Tractica is a market intelligence firm that focuses on human interaction with technology. Tracticas global market research and consulting services combine qualitative and quantitative research methodologies to provide a comprehensive view of the emerging market opportunities surrounding User Interface Technologies, Biometrics, Digital Health, Wearable Devices, and Automation & Robotics. For more information, visit www.tractica.com or call +1.303.248.3000.
Featured Product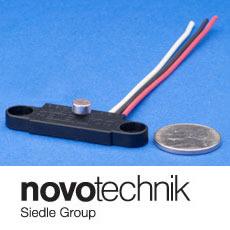 Vert-X 05E Series of dual angle/speed sensors. The series features easy mounting in small and narrow spaces with a 5 mm body depth and mounting flanges with metal inserts. The sensors make measurements only 6 mm from edge of product for close-to-wall measurement applications. Vert-X 05E Series sensors measure angles from 0 to 360°, rotational speed and direction with repeatability to 0.1°.