Festo modular automation systems help laboratory equipment manufacturers lower engineering costs and bring products to market faster. (Festo SLAS Booth #537)(Festo AquaJellies – the bionic artificial jellyfish – also at SLAS)
Festo features at SLAS 2016, January 23-27 in San Diego, Calif., the companys latest mechatronic solutions for high throughput screening (HTS) laboratory equipment. HTS technology from LGC and Rheonix with Festo automated motion and microfluidic control subassemblies inside are showcased along with Festo products and systems. (Festo SLAS Booth #537)

SLAS visitors to the Festo booth can also see AquaJellies - bionic, autonomous jellyfish - in their new 500 gallon/1,900 liter tank.
Festo mechatronic and microfluidic control solutions in conjunction with the companys engineering and subassembly capabilities speed up the development of new HTS equipment. Equipment manufacturers that buy Festo subassemblies typically lower their internal engineering costs and bring products to market faster and with higher performance than those that design, source components from various manufacturers, and assemble mechatronic systems from the ground up.
LGC and Rheonix join Festo at SLAS
Two HTS manufacturers, LGC and Rheonix, which have Festo mechatronic systems inside their laboratory equipment, are showcasing new solutions at the Festo booth. LGC, an international life sciences measurement and testing company, will demonstrate a Meridian series high speed, non-contact liquid dispensing instrument that can be configured with either a single-channel or 8-channel dispensing head and can dispense 1 µL of polymerase chain reaction (PCR) reagents into a 1536 well plate in less than 40 seconds.
The Meridian will also showcase a new modular liquid handling system for dosing applications. This solution is based on Festo VODA media valves which are designed to dispense liquids with high precision in up to eight channels and up to eight different fluids. Dispensing volumes can be regulated individually using these valves.
A thermal cycler, the LGC Hydrocycler, offers up to 40 percent faster cycling for PCR as compared to traditional Peltier-based thermal cyclers. The Hydrocycler supports plate-based PCR in either 96, 384, or 1536 well plate formats, as well as emulsion PCR (ePCR).
Rheonix, Inc., a company committed to improving standards of care by making molecular diagnostics available to more people, will display the EncompassMDx™ system - a one-stop solution for molecular diagnostic assays. The EncompassMDx automates sample preparation designed to isolate DNA and RNA from a variety of samples. Its detection capabilities combine the capacity of a microarray with the speed and resolution of qPCR in one unit. It has on-board multiplexing of up to 256 probes per square centimeter.
"Both LGC and Rheonix had to decide whether to make the mechatronic systems for their new laboratory equipment or to purchase them," said Steve Fitterer, Laboratory Automation Segment Manager for Festo. "Their decision to buy the motion systems and work with Festo engineers to tailor the mechatronics for their machines freed them to devote the bulk of their research and development to delivering leading edge screening solutions."
Festo, LGC, and Rheonix will give a tutorial on how industrial automation solutions improve process in the lab and the decision of make versus buy on Tuesday, January 26, from 12:30 - 1:15 PM in Room 15B.
Festo mechatronic subassemblies on display
The EXCM Mini-H gantry is a compact handling system for clinical laboratory automation and is one of a number of Festo subassemblies and systems on display at the booth. The EXCM planar surface gantry is fast, accurate, modular, and flexible. It is also plug-and-play for quick and easy start up. The EXCM Mini-H gantry is used for dosing, barcode-based sample identification, liquid dispensing/pipetting with the addition of a Z-axis, and more. This desktop system moves vials on a planar X/Y axis with an absolute positioning accuracy of + .05 inches and a repetition accuracy of + .01 inches.
The new Festo Single Axis Variable Pitch Module (SVPM) is an ideal solution for applications such as lab sample preparation and for automating sample diluting or concentrating methods. The mechanical linkage of the SVPM permits pitch adjustment from a minimum of 9 mm to a maximum of 50 mm. In the preparation of lab samples, individual pipettes can easily be mounted to each of the eight fingers. Using this configuration, eight pipettes can aspirate or dispense from a 96 well plate (8 x 12) at a nine mm pitch, then expand to a different pitch, as required by the application to aspirate, or dispense into a large variety of fluid containers such as tubes, chips, or vials up to a 50 mm pitch.
Microfluidics dosing valves
Festo recently introduced a family of microfluidic dosing solutions that provide for a range of dosing options from individually controlled valves to multiple heads controlled by a single valve. This new microfluidic family of valves integrates easily with pipetting/dispensing and gantry systems.
Handling display features a plug-and-play control system
One of the most time consuming activities for handling systems is control and communication integration. Festo shows how its CPX control system provides for a plug-and-play environment. This solution not only reduces engineering expenses, but also ensures peak communications and efficiency.
Modular system ready for application
An active demonstration will simulate an electric liquid-handling solution that transfers whole blood from the specimen to an analysis chip within a very small installation space. The mechatronics and control system used in this demo are available to be modified for equipment manufacturers looking for a performance positioning platform.
AquaJellies at SLAS
The AquaJellies from the Festo Bionic Learning Network are artificial, autonomous jellyfish with electric drives and intelligent, adaptive mechanical systems. The movements of the AquaJellies come as close as possible to simulating jellyfish undulating through the worlds oceans. The integrated communication and sensor technology plus the real-time diagnostics enable coordinated, collective behavior among AquaJellies even in a limited space. When batteries need to be recharged, AquaJellies autonomously and automatically swim to a charging station at the top of the tank. Developments in the Festo Bionic Learning network inspire innovations in automation.
For more information on Festos clinical laboratory automation solutions, call Festo at 800-993-3786 and visit http://www.festo.com/us.
About Festo
Festo is a leading manufacturer of pneumatic and electromechanical systems, components, and controls for process and industrial automation. For more than 40 years, Festo Corporation has continuously elevated the state of manufacturing with innovations and optimized motion control solutions that deliver higher performing, more profitable automated manufacturing and processing equipment.
Featured Product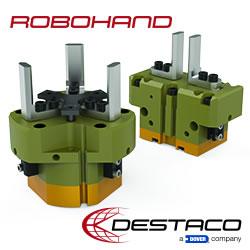 Automatically change end effector tooling quickly and easily with Destaco's Automatic Tool Changers. Designed with exceptional repeatability, high rigidity and load capacity, they are perfect for multiple tooling applications utilizing one robot. We offer different models and sizes to handle light-duty to heavy-duty applications. Our RQC/RTP Series provides a high level of flexibility with a configurable, modular design that accommodates up to four optional modular interfaces.