Winners to be Announced February 9 during Awards Ceremony in Anaheim at America's Most Comprehensive Advanced Manufacturing Event
SANTA MONICA, Calif., Jan. 28, 2016 /PRNewswire/ -- Design News today announces the finalists of the 14th annual Golden Mousetrap Awards, a program celebrating the American people, companies, and technologies that are driving progress in product design and manufacturing.

The Golden Mousetrap Awards recognize new technologies and cutting-edge products within 16 areas of excellence, as well as two special honors for the Rising Engineering Star and Gadget Freak of the Year (in partnership with Allied Electronics). The winners of each category will be honored during a special awards ceremony, celebrating the next generation of talent in the engineering and manufacturing industry.
The awards ceremony will be held February 9, 2016 at the Anaheim Convention Center, hosted alongside UBM's annual advanced manufacturing event, which includes the MD&M West, ATX West, Electronics West, WestPack, Pacific Design & Manufacturing, and PLASTEC West events and conferences, being held at the Anaheim Convention Center February 9-11, 2016. For more information, visit: http://goldenmousetraps.designnews.com.
The 2016 Golden Mousetrap Finalist Products and Manufacturers include (alphabetical by category):
Automation & Control - Controllers
Allen- Bradley ControlLogix 5580 Controller - Allen Bradley
Micro PLC platform - Maxim Integrated
ESCON module 24/2 - Maxon Precision Motors
MCST 3601 Motion Controller for Stepper Motors - MICROMO
Vision 700 - Unitronics Inc.
Automation & Control - Drives
Rexroth IndraDrive Mi cabinet-free Supply and Mains Module - Bosch Rexroth Corporation
AKD-N Multi- Axis Servo System - Kollmorgen
Automation & Control - Fluid Power Technologies
Dry Break M3 Quick Disconnect - Beswick Engineering
Rexroth Hagglunds CA 10-40 Hydraullic - Bosch Rexroth Corporation
Automation & Control - Industrial Network Technologies (e.g. I/O, Ethernet, Wireless)
Ha-VIS preLink - HARTING Inc. of North America
Radioline Wireless Platform - Phoenix Contact USA
RZ/ T1 Real-Time Processor - Renesas Electronics America
Automation & Control - Motors and Mechanical Motion Devices
QNPHD - Aerotech, Inc.
FDM0620 Stepper Motor - MICROMO
Ultra EC Brushless DC Mini Motors - Portescap
ClearPath All-in-One Brushless Motors - Teknic, Inc.
Automation & Control - Sensors, Vision Systems, Feedback Devices, & Peripherals
MAXREFDES79# - Maxim Integrated
BAW MEMS Gyroscope rate sensor - Qualtre, Inc.
Uprox3 - Turck Inc.
Design Tools - Hardware & Software- Analysis & Calculation Software
Atmel START - Atmel Corporation
Rockwell Software Studio 5000 Software - Rockwell Automation
WEBENCH Advanced Tools - Texas Instruments
Design Tools - Hardware & Software- CAD/PDM/PLM Software
Arena PLM 2015 - Arena Solutions
Omnify Empower PLM (Product Lifecycle Management) - Omnify Software
Electronics & Test - Analog/ Power Management/ Control
Allen-Bradley Bulletin 1494U Visible Blade Disconnect Switch - Allen Bradley
Atmel SmartConnect Bluetooth Smart BTLC1000 - Atmel
NDM3ZS-90 - CUI Inc.
EZ-PD ™ CCG2 Type-C Cable Controller - Cypress Semiconductor Corp.
ISL8117 Synchronous Step-DownPWM Controller - Intersil Corporation
ISL8273M 80A Single Channel Digital PMBus Step-Down Power Module - Intersil Corporation
MCP9600 Thermocouple-Conditioning Integrated Circuit - Microchip Technology Inc.
Electronics & Test - Components, Hardware & Interconnects
Han F+B - HARTING Inc. of North America
XGD Series XTREME-GUARD ESD Suppressors - Littelfuse, Inc.
88 MW300/302 Wi-Fi Microcontroller SoC - Marvell
MAX9286 - Maxim Integrated
Nvidia Shield Android TV - Nvidia Corporation
Extremelife-60 cable - Turck Inc.
221 Series Splicing Connectors - WAGO Corporation
Electronics & Test - Embedded Computing/Processing
BCM47748, GNSS for IoT and wearables - Broadcom Corporation (BRCM)
ISL29501 Time-of-Flight Signal Processing IC - Intersil Corporation
88E6390X Gigabit Ethernet switch - Marvell
88PA6270 Printer SoC - Marvell
Renesas Autonomous Driving Development Platform - Renesas Electronics America
SimpleLink ultra-low power wireless MCU platform - Texas Instruments
Electronics & Test - Test & Measurement
M8196A 92 GSa/S Arbitrary Waveform Generator - Keysight Technologies Inc.
81606A Turnable Laser Source, High- Power and Lowest SSE, Top-Line - Keysight Technologies Inc.
Wireless Test System - National Instruments
Materials & Assembly - 3D-Printing & Rapid Prototyping, Materials, Tools & Services
AIRWOLF 3D AXIOM - Airwolf 3D
Urethane Foam Casting with 3D Printing - Stratasys Direct Manufacturing
Materials & Assembly - Fastening, Joining & Assembly Components
AS9100C Custom Universal Joints for Aircraft High Lift Actuation Systems (HLAS) - Belden Universal
Adhesives - Master Bond
Zapnik ™ - Sloan Technical Services
Materials & Assembly - Materials Processing
TenderPac® - Sealpac USA, LLC
Ceremony Details:
What: 14th Annual Golden Mousetrap Awards Ceremony and Reception
When: Tuesday, February 9, 2016 | Ceremony from 5:30-6:30 PM, with cocktails served from 4:30-5:30 PM
Where: Room 213 B/C/D, Second Level of the Anaheim Convention Center, Anaheim, CA
Cost: Admission is free when you register for the tradeshows running alongside the ceremony. When registering for the tradeshows you'll have an opportunity to reserve a seat at the awards ceremony.
Follow the Golden Mousetrap Awards on Social Media with official hashtag, #GMT16.
To register for any of the co-located expos, visit: anaheim.ubmcanon.com
To apply for a media pass, visit: mdmwest.mddionline.com/press-registration
About Advanced Manufacturing Expos & Conferences
UBM's Advanced Manufacturing portfolio is the leading B-to-B event producer, publisher, and digital media business for the world's $3 trillion advanced, technology-based manufacturing industry. Our print and electronic products deliver trusted information to the advanced manufacturing market and leverage our proprietary 1.3 million name database to connect suppliers with buyers and purchase influencers. We produce more than 50 events and conferences in a dozen countries, connecting manufacturing professionals from around the globe. The Advanced Manufacturing portfolio is organized by UBM Americas, a part of UBM plc (UBM.L), an Events First marketing and communication services business. For more information, visit ubmamericas.com.
Featured Product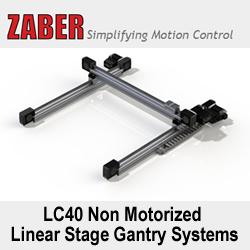 A Zaber gantry kit comes with everything you need to build a customized XY gantry system or XYZ gantry system. These gantry systems feature coordinated multi-axis motion, plug-and-play operation, easy integration with end-effector options, and built-in IO and E-Stop capabilities. An intuitive ASCII interface allows the user to easily communicate with the gantry systems using our free software, either Zaber Motion Library with APIs for several popular languages or Zaber Console. Third party terminal programs that can communicate over a serial port can also be used.