Additional demos include a high speed picking system, the large work envelope IRB 1200 robot, and the ultra-compact FlexFeeder flexible parts feeding system.
AUBURN HILLS, Mich. (February1, 2016) - ABB Robotics will feature YuMi®, the worlds first truly collaborative dual-arm industrial robot, at ATX West 2016, February 9th - 11th at the Anaheim Convention Center (Booth # 4320). YuMi is specifically designed to meet the flexible and agile production needs of the consumer electronics industry, and other small parts assembly and packaging applications.

YuMi can operate in very close collaboration with humans, and has a lightweight, yet rigid magnesium skeleton covered with a floating plastic casing, wrapped in soft padding to absorb impacts. It is also compact, with human-like dimensions and movements, and is fully integrated with ABBs Integrated Vision as well as the recently introduced FlexFeeders.
Additional highlights of the ABB booth include:
High Speed Picking: The Standard Double-Picker Cell function package, which can accommodate the complete range of IRB 360 FlexPickers® ̶ the 1 kg, 3 kg and 8 kg payload variants at the standard 1130 mm reach, and 1 kg and 6 kg variants at the extended 1600 mm reach. The 8 kg model provides a robust solution for handling heavier individual products, heavier tooling and larger product groupings. The 1 kg and 3 kg FlexPickers are available in an IP69K rated stainless model, and the 6 kg and 8 kg models are available with IP67 protection suitable for most hygienic applications.
The 1 kg FlexPicker in the demo features the Soft Robotics Adaptive Gripper System. This novel system enables the FlexPicker to address a varying range of object shapes, sizes, and weights at high pick rates with a single end of arm tool.
IRB 1200: A compact robot family that provides the flexibility, ease of use, short cycle times, and large work envelope ideal for a wide range of material handling, machine tending and small parts assembly applications.
FlexFeeder: An ultra-compact flexible parts feeding system designed for small parts assembly applications such as consumer electronics, computers and communication devices. It features a pneumatically actuated mechanical system to present randomly positioned parts in a way that makes it possible for a vision equipped robot to pick the parts accurately.
About ABB
ABB (www.abb.com) is a leader in power and automation technologies that enable utility and industry customers to improve their performance while lowering environmental impact. The ABB Group of companies operates in around 100 countries and employs about 140,000 people.
About ABB Robotics
ABB Robotics (www.abb.com/robotics) is a leading supplier of industrial robots - also providing robot software, peripheral equipment, modular manufacturing cells and service for tasks such as welding, handling, assembly, painting and finishing, picking, packing, palletizing and machine tending. Key markets include automotive, plastics, metal fabrication, foundry, electronics, machine tools, pharmaceutical and food and beverage industries. A strong solutions focus helps manufacturers improve productivity, product quality and worker safety. ABB has installed more than 250,000 robots worldwide.
All ABB Robotics' products are fully supported by the ABB Robotics global sales and service organization in 53 countries and over 100 locations.
Featured Product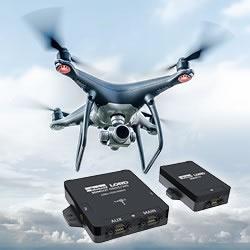 The new complete inertial navigation solution comes with GNSS/INS 3DMGQ7 sensor, 3DMRTK correction modem and real time SensorCloud RTK correction network. The sensor comes with Dual antenna GNSS, tactical grade IMU with centimeter-level accuracy with RTK. Low profile and light weight at 78 grams, this sensor is The sensor is optimized for size and weight in Unmanned Ground Vehicles, mobile robots and autonomous vehicles. The network interface 3DMRTK modem is seamlessly integrated into the 3DMGQ7 sensor supports industry-standard NMEA and RTCM 3.1 protocols. The network RTK support comes with cellular data plan. The SensorCloud RTK is a cloud-based RTK correction system with private encrypted data stream. Check out our G Series and C Series OEM products.