Automation Networks is a Technology company providing a wide variety of quality Industrial Networking products for the most popular Ethernet & Fieldbus Industrial Networks. These include Allen-Bradley Ethernet CSP , Ethernet/IP, DeviceNet, Data Highway Plus (DH+); Siemens Profibus & Profinet; Schneider Electric Modbus RTU & Modbus TCP/IP. Other Industrial protocols & Networks includes CC-Link, BACnet MS/TP, BACnet/IP & MELSEC.
Automation Networks is pleased to announce the release of the most advanced Allen-Bradley DH+ Converter, available if both "pocket-sized" and "USB" format.

The ANC-100e is an economical and high performance, "pocket-sized" converter interfacing Factory Automation Devices between Ethernet/IP and Allen-Bradley Data Highway Plus DH+. (Also available in USB format: ANC-120e, USB-to-Data Highway Plus, 1784-U2DHP replacement alternative using the Controllogix Ethernet/IP Driver feature).
The ANC-100e communicates with all SCADA, HMI, PLC programming packages with direct Ethernet/IP access to the DH+ network and stations. This includes RSLINX/LOGIX Classic & Enterprise Controllogix Driver, Wonderware DAServer, Citect Ethernet/IP, and Kepware Controllogix Ethernet/IP Drivers.
The enhanced ANC-100e gateway converter is useful for PLC programming, accessing and monitoring DH+ network from a PC computer. It is has similar replacement features as the Controllogix 1756-DHRIO / 1756-ENBT, and AB 1784 Interface Cards which include 1784-U2DHP, 1784-KTx, 1784-PKTx, & 1784-PCMK & Prosoft AN-X2-AB-DHRIO.
Highlights of ANC-100e:
*Compatible with all PLC Programming/HMI/SCADA packages including all older versions of RSLINX Classic and latest RSLINX Enterprise.
*Easy setup: Driver selection is ControlLogix Ethernet driver.
*Economical: Full function Ethernet-to-DH+ converter listed at $1,295 USD List.
*Fast Ethernet/IP Connection: Using the RSLINX Controllogix Ethernet Driver.
*AB 1784 Interface Card Compatibility: Modern substitution to 1784-U2DHP, 1784-KTx, 1784-PKTx and 1784-PCMK cards
*DH+ Speeds: Reliably supports all DH+ data rates - 57.6, 115.2 and 230.4 Baud on communication length exceeding standard requirements.
*Auto Detect: Default Auto Baud Rate and Auto Polarity detection.
*Size: "Pocket-sized" convenience with Desktop and Din Rail options.
*Easy DH+ connection: 3-pin Phoenix Blue Hose connector option or direct 8-pin mini din cable connection to PLC port. (8 pin mini din cable sold separately).
Please contact Automation Networks at info@automation-networks.com / Tel (281) 771-0019 to review your application details and how we can best optimize your Factory Automation application.
Featured Product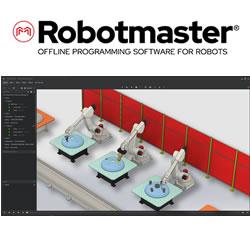 Robotmaster delivers unmatched, full-function off-line programming capability for robots - easy programming of precise robot motion control and quick generation of path trajectories of any size, with minimal programmer intervention. Our strong background in CAD/CAM (Computer Aided Manufacturing) software has enabled us to bring a revolutionary approach to programming industrial robots.