The THeMIS, made in Estonia
ABU DHABI, United Arab Emirates--(BUSINESS WIRE)--During this years unmanned systems exhibiton UMEX 2016 in Abu Dhabi, the Estonian defence solutions provider, Milrem, will be showing the capabilities of the first-of-its-kind hybrid modular unmanned ground vehicle THeMIS in an exclusive demo performed for the first time in the Gulf region.

THeMIS (Tracked Hybrid Modular Infantry System) is a multi-mission vehicle platform that can assist and replace soldiers on the battlefield in complex and hazardous tasks and is able to reduce operational risks and work as a force multiplier.
THeMIS will be exhibited at UMEX 2016 in the Estonian Pavilion 3-B5, from 6 - 8 March 2016.
Unlike existing UGVs, THeMIS is a highly modular platform that allows different superstructures to be mounted and integrated onto the middle vehicular platform for complex missions such as rescue, transport, reconnaissance. The flexibility and versatile nature of the system not only increases efficiency, it also significantly reduces the life cycle costs of these complex unmanned systems with simplified maintenance and spare supplies.
"Unmanned systems will play a significant role in the development of military capabilities in future. Within the next 10 years, we will see smart ground systems complimenting the human troops during joint missions. Were sure that this universal UGV concept will effectively supplement defence capabilities on a battalion level," said Kuldar Väärsi, CEO of Milrem.
"Milrem is determined to adjust THeMIS according to UAE and Gulf region customers expectations in good cooperation with local technology partners. THeMIS will help to achieve same the same goals or even more with less number of human soldiers," he added.
In line with THeMIS, Milrem has also launched the Digital Infantry Battlefield Solution (DIBS), the tactical usage of smart unmanned systems up to battalion level. This is a program in developed in conjunction with Estonian National Defence College. DIBS analyses wide variety of tactical user cases and provides new approaches to the warfare doctrines. Practical solutions will be tested in corporation with Estonian Defence Forces.
Milrem has successfully conducted initial running tests for the THeMIS prototype, and THeMIS will be ready for production by the end of this year.
For more information, watch the test drive video here or download the HD version here.
About Milrem AS
Milrem is an Estonian defence solutions provider specialising in military engineering, repairing and maintenance. Established in 2013, Milrems mission is to be a reliable partner in the defence and security sector to offer flexible product development solutions and integrated life cycle support for defence equipment. The two main lines of activities are the research and development of unmanned vehicles, and repair and maintenance of heavy duty military vehicles.
About THeMIS
THeMIS is the first modular hybrid unmanned ground vehicle in the world. The vehicle can be used for a very wide variety of applications, from simple transportation to advanced weapon systems. THeMIS is a base platform for the Digital Infantry Battlefield Solution (DIBS) which will be developed with an aim to reduce the number of human troops on battleground. Combined with flexible and intuitive control system THeMIS and DIBS will give a basis for changing the warfare doctrines.
Featured Product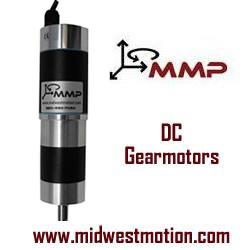 Midwest Motion Products, Inc. (MMP), is a well-established, healthy, & growing Family Owned Business, founded in 2001. MMP specializes in cost-effective standard DC Gearmotors, Motors, Controls, and ancillary equipment. Known world-wide for our "Lightning Fast" delivery capabilities, you can have a Standard Planetary or Right Angled DC Gearmotor BUILT and SHIPPED, often on the very same day you call. Offering Brushed and Brushless designs, with winding voltages ranging from 12 VDC to 120 VDC, we can deliver your "Robust & Reliable" samples within HOURS, instead of weeks, or even months.