International Investment Allows Agile to Accelerate Commercialization of Robotics Components
Agile Sensor Technologies Inc. (Agile) today announced that it has received a significant investment and strategic partnership with Gaitech International Limited (Gaitech) of Shanghai, China.

Agile, headquartered in Canada, develops robotics technologies for the Industrial Automation and Aerospace/Defense Markets. The partnership with Gaitech includes a strategic investment in Agile and an agreement to co-develop new products for distribution into the global robotics market.
"Were very excited about this new partnership," says Brian Terry, CEO of Agile. "Gaitechs investment in Agile enables us to accelerate growth and launch our technology into international markets. Our collaboration with Gaitech on product development will result not only in new products, but also in rapid knowledge transfer to our team."
The companies have already started plans for their first joint project to produce a plug-and-play development platform for robot makers, which will allow companies to simplify robot development, and change the way they design and manufacture products.
"We plan to invest locally and expand our sales and engineering teams. This supports our goal to accelerate sales of our motor control system and launch of our flight stabilization system, smart camera and patented sensor aiming devices. These devices will change the way companies develop their robots to include our highly reliable, fast, and dynamic components," says Terry.
"This is a strategic investment for us," states CEO Jenssen Chang of Gaitech. "We believe that the combination of Agile's state-of-the-art FPGA (field-programmable gate array) technologies with our expertise in ROS (Robot Operating System) will result in several exciting new products for the high-growth global robotics market."
About Agile
Agile Sensor Technologies Inc. produces components for the robotics market, which includes drones and other types of unmanned vehicles. The company was founded in 2014 to develop robotics-focused technologies. Agile introduced its first product - a motor control system for drones - in December 2015 and plans to achieve sales of its drone flight stabilization system, smart camera and patented sensor aiming devices in 2016.
About Gaitech
Gaitech International Ltd. is an innovative robotics solution provider based in Hong Kong, Seoul, Taipei and Shanghai. Gaitech is integrating, distributing, manufacturing and supporting a wide range of cutting-edge robotics products based on ROS and has partnered globally with Shadow, Rethink Robotics, Fetch Robotics, Kinova, Robotnik, Clearpath, Stanley Innovation and other key companies in this field. Being the licensed manufacturer of ROS Educational Kit, Gaitech is active in the promotion and education of ROS in Asia.
Featured Product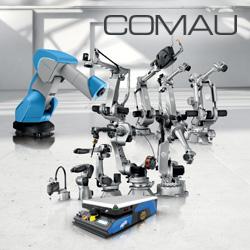 The Factory 4.0 ready Agile1500 AGV is equipped with a long lasting lithium battery and can adapt to accommodate diverse manufacturing needs. The two laser scanners on the front and rear guarantee efficient and safe navigation. Comau's AGV has the best in class payload to size ratio, capable of transporting up to 1.5 tons; it can be reconfigured with specific automatic and flexible equipment and is suitable for a wide range of industrial and logistical sectors.