A novelty at IMTS 2008, 3D printing is taking its rightful place as an industrial solution.
McLean, Va., March 9, 2016 - To enter the North Building at McCormick Place, visitors to IMTS - The International Manufacturing Technology Show - must exit the Grand Concourse and pass through the new Additive Manufacturing Pavilion. Previously the technology has been featured in AMTs Emerging Technology Center as a cutting edge technology and then added to the Fabricating and Laser Pavilion. For IMTS 2016, additive manufacturing technology has earned a stand-alone spotlight at the show, which runs from Sept. 12-17, 2016.

"Additive manufacturing is a reality for the industrial marketplace. Its not fully mature, but the technology has progressed far enough that if youre ignoring 3D printing at IMTS 2016, youre making a big mistake," advises David Burns, founder and principal of Global Business Advisory Services, LLC. "Fortunately, within the IMTS Additive Manufacturing Pavilion, youll find companies that offer a full suite of 3D products, and theyre good at explaining the benefits."
Burns well understands industrial manufacturing. IMTS 2016 will mark his 16th show. Before he started advising industrial companies, Burns co-founded and was President and COO of ExOne™, a leading provider of 3D printing machines, products and related services. Prior to ExOne, he was CEO for gear manufacturer Gleason Corporation.
Burns says that technology advancements occur so rapidly that staying on top of new developments requires constant work. As it applies to 3D printing, developments include new metallurgies, new machines and a suite of design tools.
"Designing for 3D printing requires a completely different approach, as does integrating the power of 3D printing into your industrial manufacturing operation," he says.
As an example, Burns cites an aerospace part redesign where 3D printing reduced weight from 7 to 2 lbs. and offered better mechanical properties. Saving 5 lbs. per part over several parts adds up to serious fuel savings when you consider that American Airlines claims it will save $1.2 million in fuel per year by switching from 35-lb. paper manuals to a 1.5-lb. iPad.
In another example, 3D printing enables the integration of conformal cooling channels in the tooling for injection molded parts. The new design reduces cycle time, reduces reject rates associated with warping and offers a claimed productivity rate increase of 20 to 70 percent across several applications. In yet a third example, 3D printing enabled a design team to combine 18 parts into a single component that was 25 percent lighter and, more importantly, eliminated maintenance issues.
"If youre just trying to emulate an existing design, you need to expand your thinking to fully harness the power of 3D printing," says Burns. "Savings and productivity improvements are going to come from ways you have yet to imagine."
The Additive Manufacturing Pavilion
"Additive manufacturing is incredibly dynamic, and in order to see new materials, new design ideas and new production techniques, you need to attend IMTS 2016," says Peter R. Eelman, Vice President - Exhibitions & Communications at AMT - The Association For Manufacturing Technology. Eelman emphasizes that the term additive manufacturing encompasses a collection of diverse technologies that includes material providers, 3D printers and associated equipment such as sintering furnaces, design and production software, scanners that capture points to create a parametric design and 3D printing service centers.
"The Additive Manufacturing Pavilion showcases essentially every component necessary for a manufacturing cell," he says. "In addition, the technology has progressed so far that youll also see it on the show floor. Several of the leading machine tool providers will demonstrate 'hybrid machines that integrate 3D printing and traditional machine tool capabilities."
Pavilion exhibitors include ExOne, EOS of North America, 3D Systems, Statasys, HP, Optomec, Proto Labs, EnvisionTEC, Cideas, DM3D Technology, SCIAKY, 3rd Dimension Industrial 3D Printing, Hybrid Manufacturing Technologies, GPI Prototype & Manufacturing Services, Linear AMS — and more still being added. Use the MyShow Planner tool to set up meetings with these and other companies, and even bring a hard copy of your print.
###
Conversations within the IMTS community are continuing on social media:
@ Twitter: @IMTS_2016 or #IMTS
LinkedIn: The IMTS LinkedIn Group - https://www.linkedin.com/groups/2987568
Facebook: https://www.facebook.com/IMTS.show
NOTES:
View the Additive Pavilion exhibitor list
Download the IMTS 2016 logo and photos - IMTS.com/media
Leading up to IMTS 2016, we are featuring members of the IMTS community who shared what the show means to them. Read more at IMTS.com/WeAre
View the IMTS 2016 floor plan - IMTS.com/floorplan
Watch IMTS YouTube Channel - youtube.com/imtsvideos
IMTS - International Manufacturing Technology Show
The largest and longest running manufacturing technology trade show in the United States is held every other year at McCormick Place in Chicago, Ill. IMTS 2016 will run Sept. 12-17. IMTS is ranked among the largest trade shows in the world. Recognized as one of the worlds preeminent stages for introducing and selling manufacturing equipment and technology, IMTS attracts more than 114,000 visitors from every level of industry and more than 112 countries. IMTS is owned and managed by AMT - The Association For Manufacturing Technology. www.IMTS.com
AMT - The Association For Manufacturing Technology represents and promotes U.S.-based manufacturing technology and its members—those who design, build, sell, and service the continuously evolving technology that lies at the heart of manufacturing. Founded in 1902 and based in Virginia, the association specializes in providing targeted business assistance, extensive global support, and business intelligence systems and analysis. AMT is the voice that communicates the importance of policies and programs that encourage research and innovation, and the development of educational initiatives to create tomorrows Smartforce. AMT owns and manages IMTS — The International Manufacturing Technology Show, which is the premier manufacturing technology event in North America. www.AMTonline.org
Featured Product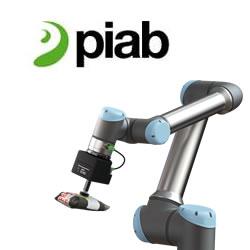 Piab's Kenos KCS gripper enables a collaborative robot to handle just about anything at any time. Combining Piab's proprietary air-driven COAX vacuum technology with an easily replaceable technical foam that molds itself around any surface or shape, the gripper can be used to safely grip, lift and handle any object. Standard interface (ISO) adapters enable the whole unit to be attached to any cobot type on the market with a body made in a lightweight 3D printed material. Approved by Universal Robots as a UR+ end effector.