Updated vehicle features unparalleled technology and advanced capabilities
POCASSET, Mass.--(BUSINESS WIRE)--Hydroid, Inc., a subsidiary of Kongsberg Maritime and the leading manufacturer of marine robotic systems, today announced its release of the New Generation REMUS 100 AUV. The autonomous underwater vehicle features advanced technology and capabilities that are the first of their kind in the industry, enabling customers to have increased autonomy and creativity during missions.

The New Generation REMUS 100 AUV combines the reliability of the original REMUS 100 AUV that customers know and trust with new features and capabilities, such as advanced core electronics, a flexible navigation suite with an exclusive conformal Doppler Velocity Log (DVL) and an open architecture platform for advanced autonomy. The vehicle was created over a period of two years, and is designed based on feedback from the world's largest AUV user community.
"The New Generation REMUS 100 AUV has impressive capabilities not previously seen on a man-portable vehicle," said Duane Fotheringham, president of Hydroid. "We are confident that we have created a vehicle that fulfills our customers' needs for leading technology, while maintaining the core offerings of the REMUS brand they have trusted for years. Thanks to the New Generation REMUS 100, we are continuing to pave the way for future unmanned underwater technology."
Design upgrades include:
Advanced Core Electronics: The New Generation REMUS 100 features cutting-edge core electronics (CE) designed to replace not only the previous REMUS motherboard but also the CPU stack, emergency board and six serial cards. The new CE board is smaller and lighter than the components it replaces, and it uses an ARM +FPGA architecture that makes it both potent and versatile while consuming less than 5W of power—about 25 percent of the power required by the earlier version.
Flexible Navigation Suite: The New Generation REMUS 100 includes an exclusive conformal design, phased array transducer 300kHz DVL in the rear of the vehicle. This design significantly increases bottom-tracking range to improve overall navigation performance. In addition, the REMUS 100 will now be available with a choice of inertial navigation system (INS) to suit each customer's navigation needs and budget.
High Capacity Battery Pack: Equipped with two or three (depending on the model) of Hydroid's latest 18650 Li-Ion based packs, the New Generation REMUS 100 AUVs will carry more energy than ever before. The packs use 3.2Ah Li-Ion cells and have the same electrical configuration as the REMUS 600 pack currently in use.
Modular Elliptical Nose: The redesigned elliptical nose on the New Generation REMUS 100 can reduce drag by 20 percent. In addition, it's acoustically transparent, so that the acoustic communications (ACOMMS) transducer can be relocated inside the nose. Because the new nose uses the same modular interface on the existing REMUS 100, it can be easily integrated on both current payload modules and the New Generation REMUS 100.
Open Architecture: The New Generation REMUS 100 expands on existing REMUS capabilities by adding an open architecture platform for advanced autonomy making the vehicle more versatile. This platform is realized with a publish subscribe database based on a Robotic Operating System (ROS) on a second processor. The new REMUS "front seat" performs control functions using well-tested, reliable proprietary control software. The "back seat" performs mission tasks, such as side scan sonar data logging and extensibility using Hydroid, customer or third party applications.
The New Generation REMUS 100 is designed so that customers with existing payload modules can have them easily transferred to the new model. Hydroid will continue to support the original REMUS 100 vehicle for customers by request.
Hydroid's New Generation REMUS 100 AUV is now available to order. For more information, contact Hydroid at +1 (508) 563-6565, or visit http://www.hydroid.com/newgenremus.
About Hydroid, Inc.
Located in the U.S. and a subsidiary of Kongsberg Maritime, Hydroid is one of the world's most trusted manufacturers of intelligent marine robots. REMUS and HUGIN AUVs provide innovative and reliable full-picture AUV systems for the marine research, defense, hydrographic and offshore/energy markets. Together, REMUS and HUGIN represent the most advanced, diversified and field-proven family of AUVs and AUV support systems in the world.
Developed by a veteran team of engineers, the innovations of Hydroid and Kongsberg Maritime provide a safe and reliable answer to the challenges that have hampered ocean exploration and security. For more information on REMUS and HUGIN technology, please visit www.hydroid.com or www.km.kongsberg.com.
Featured Product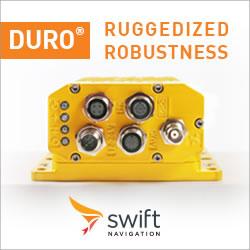 Duro® is a ruggedized version of Swift Navigation's Piksi® Multi RTK GNSS receiver. Built to be tough, Duro is designed for easy integration into existing equipment. This affordable, easy-to-deploy GNSS sensor delivers robust, centimeter-accurate positioning while protected against weather, moisture, vibration, dust, water immersion and the unexpected that can occur in outdoor long-term deployments.