Visit Motion Controls Robotics at the Converters Expo in booth B135 to discover 6 important points for including robotics in the next roll handling project.
FREMONT, OH 03/14/2016 - Motion Controls Robotics, a leading provider of robotic solutions from concept to installation with continued 24/7 service & support, will be exhibiting in booth B135 at the Converters Expo. The Converters Expo will be held in the Lambeau Field Atrium in Green Bay, Wisconsin on Thursday, April 14th from 9:30 am - 3:30 pm. The Converters Expo brings together over a hundred companies providing innovative solutions for the converting and packaging industry.

Motion Controls Robotics provides automation solutions to the paper, film, foil, and nonwovens industries for a variety of applications including roll handling, shaft and core handling, material handling, palletizing and vision-guided systems. As a FANUC level 4 certified servicing integrator, MCRI brings flexibility to the industry through the ability to lift and transfer small rolls to master/parent rolls.
Attendees to the Expo know the struggles of manual roll handling and at the MCRI booth there are simple answers to these complicated problems:
1. Quality - No damage to product
2. Growth - Increase production and efficiency
3. Downtime/Predictive Maintenance - Robots dont call in sick
4. Safety - Remove danger of lifting injuries
5. Labor - Eliminate escalating labor costs
6. Flexibility - Designing a solution that fits you
The Converters Expo registration fee also includes a welcome reception on Wednesday, April 13 from 6:30 pm to 8:00 pm in the new Green Bay Packers Hall of Fame. This reception is the perfect chance to network and discuss issues and needs. Motion Controls Robotics roll handling specialist, Jim Skelding, will be in attendance and happy to start a discussion on roll handling applications. Registration for the Converters Expo is $55 until April 4th and this includes parking, the welcome reception, lunch buffet, and 2 complimentary drink tickets.
Visit Booth B135 - To set up a meeting to discuss robotic roll handling with an MCRI Sales Contact during the Converters Expo, contact Jim Skelding at (419) 334-5886.
About Motion Controls Robotics - With over 20 years of continuous growth, Motion Controls Robotics is a leading provider of automation solutions to manufacturing industries. The company provides full service robotic solutions from concept to installation and service/support that keep manufacturers competitive. Motion Controls Robotics creates solutions for Fortune 500 and small to medium-sized companies in the food & beverage, plastics, building & construction materials, converting, manufacturing and board & sheet goods industries. Motion Controls Robotics provides automation solutions to manufacturers for a variety of applications including material handling (case packing, palletizing and machine tending), and vision-guided systems. Motion Controls Robotics is an exclusive Level 4 Certified Servicing Integrator for FANUC Robotics, and a SmartCart Automatic Guided Cart Value Added Reseller (VAR) for Daifuku Webb.
Motion Controls Robotics northwest Ohio headquarters is located at 1500 Walter Avenue, Fremont, Ohio. www.motioncontrolsrobotics.com
Featured Product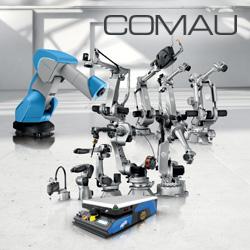 With more than40 different industrial robots with payloads ranging from 3 to 650 kg, Comauhas a robot to suit your company's automation needs.