Agreement with AutoSens 2016 will see discounts for readers and high quality industry coverage
Conference Director Rob Stead, said "I'm very pleased to have Robotics Tomorrow on board, it's a great fit for the subjects we'll be covering at our event in September at the amazing AutoWorld in Brussels."

"I'm confident that their audience will enjoy the discount agreement we've put in place, as well as the great materials we'll be working together to produce before and after the event."
Alex Lawrence-Berkeley, Marketing Manager for Sense Media Events, the event organiser, confirmed some of the details of the agreement, and the reasons why the match was essential to the marketing plan. "In my research it quickly became clear that the ADAS and autonomous vehicle industry is supported by a very select group of publications and organisations. Robotics Tomorrow is clearly part of that group, so it was clear I needed to make sure we had them on board."
"I'm pleased to confirm this partnership with Robotics Tomorrow and will look forward to working with them to provide useful and interesting articles, interviews and other exciting content to their audience in the coming months, as well as seeing them at the event itself - which will be a brilliant opportunity for those in the industry to spend some quality time together"
Register via Robotics Tomorrow and receive 15% off the entry price - Simply head to http://www.auto-sens.com and follow the links to register. When prompted, use the discount code ASCD15RBT when registering and save.
About AutoSens 2016
AutoSens, which will be held at AutoWorld in Brussels, Belgium between 20-22 September 2016, connects technologists in all disciplines of vehicle perception to network, collaborate, solve shared challenges and advance ADAS technologies more rapidly.
Bringing together engineers from several engineering disciplines including automotive imaging, LiDAR, radar, image processing, computer vision, in-car networking, testing and validation, certification and standards, AutoSens is a collaborative environment geared towards supporting engineering activities.
By keeping engineers very much at the heart of the event proceedings - content and discussion remains focussed on real-life scenarios and taking practical steps in augmenting automotive sensing towards a longer term vision of autonomous driving and autonomous vehicles.
About Sense Media Events
Sense Media is a smart, agile, B2B events company. Serving technology verticals that enable machine perception via sensors and signal processing, our conferences connect cutting edge innovators with new business opportunities. With a highly specialised staff, focused on quality content and production, it has assembled an influential advisory board and an exciting line-up of speakers for AutoSens 2016.
By bringing together the world's foremost sensor experts with end users and senior business managers, our meetings deliver equal value from the learning and networking experience. The company is headquartered in the UK, just outside London.
Featured Product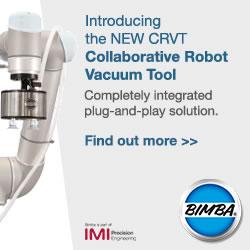 The NEW Collaborative Robot Vacuum Tool (CRVT) from Bimba adds unparalleled flexibility to your collaborative robot. The standard CRVT is highly configurable to meet your application needs, but simple to install and operate. This fully integrated tool means all you need to supply is compressed air and a signal to control the valve. A variety of standard and custom options make the Bimba CRVT the perfect tool for your next collaborative robot project.