On June 21 to 24, 2016, up to 850 companies are going to display their solutions for the optimization of production processes and professional service robotics in six exhibition halls
On June 21 to 24, 2016, up to 850 companies are going to display their solutions for the optimization of production processes and professional service robotics in six exhibition halls. AUTOMATICA in Munich is the biggest robotics show in the world and one of the leading technology platforms for automation. It is THE place to be for decision-makers, manufactur-ers and developers, for providers and users of robotics and automation.

Highlight topics are Human-Robot-Collaboration, Industry 4.0 and Professional Service Robotics.
See all technologies
AUTOMATICA 2016 offers a birds-eye view of technological development drivers in this in-novative sector: Robotics, machine vision, integrated assembly solutions and profes-sional service robotics are core exhibition areas and special topics at the trade show.
Robots, which are mobile and collaborate with people, are indispensable in a networked pro-duction world that can react flexibly and fully automated to changing needs. Industry 4.0 and the resulting applications are a chance to establish Europe as a technology leader and pio-neer. AUTOMATICA will show how the automation industry is facing the challenge of this new technology.
One trade fair - many industry sectors
The global industry gathering offers the opportunity to gain information about new develop-ments, cultivate business contacts and prepare investments in the automation industry. Plus, AUTOMATICA shows the complete spectrum of products, systems and solutions for almost every automation project and therefore appeals to users from the most diverse sectors of production such as automotive and metalworking industry, medical, pharmaceutical, food and plastics industry.
The breakthrough of smart robots
The exhibition area "Professional Service Robotics" in Hall B4 will be once more a source of inspiration. Robots have left their protective cage and now work closely with the people. Regardless of whether mining or agriculture, construction, forestry or cargo handling, whether in soil or underwater, in the air or in space: service robots relieve people not only of dangerous work, but they also provide better quality of life. Human-robot collaboration can ensure workplace ergonomics and better working conditions.
Industry 4.0
Parallel to AUTOMATICA the new platform IT2Industry will take place in Hall B4. The new embedded trade fair for digitization of production concerns intelligent, digitally networked work environments. The IT2Industry will demonstrate the link between automation and in-formation technology and focus on digital transformation in production, new opportunities for users and suppliers of robotics and automation as well as "Industry 4.0 in Practice".
STARTUP WORLD
STARTUP WORLD is the new marketplace of innovation at AUTOMATICA 2016. With the STARTUP WORLD Market, the STARTUP WORLD Award, and the STARTUP WORLD Stage, it is set to offer a unique matchmaking platform to thriving startup companies, inves-tors, and other industry entities while showcasing product innovations in automation and ser-vice robotics.
Featured Product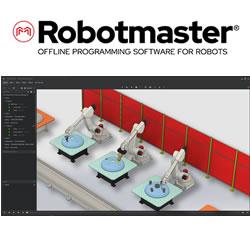 Robotmaster delivers unmatched, full-function off-line programming capability for robots - easy programming of precise robot motion control and quick generation of path trajectories of any size, with minimal programmer intervention. Our strong background in CAD/CAM (Computer Aided Manufacturing) software has enabled us to bring a revolutionary approach to programming industrial robots.