DroneTracker 2.0 meets market demand with enhanced range and integrated Wi-Fi sensors
San Francisco, CA - March 21, 2016 - Dedrone, the global leader in drone detection technology, announced today the next generation of its drone warning system. The DroneTracker 2.0 detects unmanned aerial vehicles based on their WLAN signals, allowing for identification of drone models and even individual devices.

"Only through safe and immediate detection can an individual or corporation effectively protect against unwanted drone surveillance," states Dedrone CEO, Joerg Lamprecht. "As drone sales reach an all-time high and the technology and sophistication behind drones is amplified, it is imperative that drone detection meets the rapid changes in the industry. DroneTracker 2.0 is the next wave in technology to meet that demand."
Dedrone's DroneTracker system, which currently utilizes cameras, sonic and ultrasonic sensors, has been updated with Wi-Fi sensors, making it the most effective drone detection tool in the marketplace. These Wi-Fi sensors detect UAVs through their Wi-Fi signals that are either emitted when a drone is controlled with a smartphone or when an on-board camera is sending video signals to the pilot. The new sensor also reads the MAC- addresses of the emitting device, thus allowing to identify both drone models and even individual devices.
"When a drone returns or is tracked to a different location, it is recognized as the identical device," Lamprecht explains. "This information is crucial in order to evaluate the threat potential and to trace the pilot."
Efficient Airspace Monitoring 24/7
In addition, Dedrone announced the ability to connect any number of DroneTrackers and manage them through one user interface, ultimately providing around the clock monitoring of the airspace with very few resources. Once a drone enters the secured airspace, an alert is triggered, allowing for immediate action by security teams. The drone's position is shown in real time on a digital sitemap. Evidence videos are automatically saved and easily forwarded to law enforcement.
Worldwide sales in the emerging anti-drone market
More than 100 partners already distribute DroneTracker worldwide, including international corporations such as Securitas and Bosch Security Systems. And the demand for safe, efficient and effective tracking systems continues to grow.
This February, the market research institute Markets & Markets published, for the first time, a report on the anti-drone market. The analysts are forecasting an annual growth of around 24 percent in between 2017 and 2022 and a volume of 1.14 billion dollars by the year 2022. The United States investment research firm Morningstar lists Dedrone as a leader in this field.
About Dedrone
Dedrone provides a professional civilian drone early-warning and detection system. Founded in 2014, the company has raised $2.9 million in VC funding, including an investment by successful security entrepreneur Tom Noonan (Internet Security Systems, JouleX). The company leverages acoustic, video and frequency detection technology to detect the drone threats faced by governments and industry. Once detected, it allows prisons and other facilities to react quickly, gathering contraband, locking down jail cells, and looking for pilots close by. The system not only provides real time video of the incident, but records the threat for video evidence. www.dedrone.com
Featured Product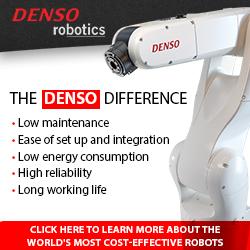 DENSO is the world's largest manufacturer - and user - of small assembly robots, employing over 17,000 of its robots in its own facilities. Over 77,000 additional DENSO robots are used by other companies worldwide. The compact, high-speed robots are used in traditional manufacturing sectors, as well as in advanced-technology applications in the medical, pharmaceutical and life sciences industries. Learn more about DENSO Robotics