Innorobo unveils the 6 finalists in its Call for Startups 2016
Two start-ups from France, one from the UK, one from the US, one from Greece and another from Russia make up the 6 finalists selected by the Innorobo 2016 Investor Panel. The finalists will present their projects to this same panel on 24 May 2016 during the Innorobo exhibition.

Lyon, France, 24 March 2016.
Innorobo, Europes leading international robotics event, has just unveiled the 6 finalists in its Call for Startups 2016. Held every year since the creation of Innorobo, the Call for Startups gives young robotics companies from around the world a helping hand. The Innorobo 2016 Investor Panel, after assessing the 44 semi-finalists based on 3 criteria (market, traction and execution), named the 6 finalists in the Call for Startups, who will display their innovations free of charge in a dedicated pavilion.
Open Bionics
OpenΒionics is an open-source initiative for the development of 3D-printed robotic hand prostheses that are lightweight, easy to create using standard materials and affordable to everyone. Thanks to its agreement with Disney, children no longer do boring rehabilitation exercises, they are trained to become heroes. http://www.openbionics.com/ , https://www.youtube.com/watch?v=CkNeVBaRjag
Axilum Robotics
Axilum Robotics is a spinoff of the Automatic Vision and Robotics team at ICube (The Engineering, Information Technology and Imaging Laboratory, a mixed research unit combining teams from CNRS, the University of Strasbourg, ENGEES and INSA). Axilum Robotics first product is a robot to assist Transcranial Magnetic Stimulation for healthcare professionals and researchers. http://www.axilumrobotics.com/fr/
Muse Robotics
Muse helps to speed up the creation of ad hoc industrial and/or service robots by offering various modules in kits that can be assembled based on needs. Muse thus offers high quality actuators, compact generic motor control modules, sensor modules, battery management modules and high-level control modules that interconnect and communicate via a shared bus. All of the modules can be daisy-chained to produce robots tailored to user needs. As Muse software applications are ROS-compatible, third-party components can be easily integrated. http://www.muserobotics.com/
VisionLabs, LLC
VisionLabs develops original, ultra-high-performance facial recognition technology based on computer vision and Deep Learning. VisionLabs mission is to improve our daily lives by making the places we live safer and more comfortable, as well as by developing technologies that handle service functions in order to give us back more quality time. http://www.visionlabs.ru/#
Grillbot, LLC
Grillbot offers the ultimate robot for summertime - a barbecue cleaner! The Grillbot grill cleaner is fully automated, safe and easy to use. The worlds first robotic grill-cleaning device, it handles all of the tiring scrubbing work in order to remove any traces of grease and grime to let you enjoy your life. Grillbot works using three powerful motors and disposable brushes. Just place Grillbot on the grill, push the button and youre done. A new mainstream robotics application after the vacuum cleaner, lawnmower and window washer. http://grillbots.com/
Terabee
Terabee, a French startup, innovates in the detection and measurement sphere (sensors). It transforms analog to digital, manual to automatic, 2D to 3D, and local to global. Its expertise in sensors is illustrated in the industrial inspection, precision agriculture, forestry, measurement and aerial imaging sectors and many others. Terabee understands sensors, loves drones and writes software. http://www.terabee.com/
"I am very impressed by the quality of the 88 applications we received," stated Catherine Simon, CEO of Innoecho. "The top 6 applications demonstrate how multidisciplinary robotics is and how diverse its fields of application are. The robotics innovation movement is worldwide and shows robotics is a General Purpose Technology."
See the finalists and many other startups at Innorobo at our dedicated pavilion, and come hear them pitch to the Investor Panel on 24 May!
About Innorobo
Innorobo, Europes leading event dedicated entirely to the robotics sector and its innovations, has created a unique robotics ecosystem to speed up the time-to-market of innovations and technologies that provide solutions for the major challenges our world is facing. Innorobo brings together robotics companies from around the world alongside research laboratories, start-ups, inventors, public and private funding providers, institutional players, strategy and innovation decision makers from major international groups and SMEs and the media. Innorobo - A Human Robotics Event. www.innorobo.com
About Innoecho
An Impact Consulting firm focusing on business development through innovation and expertise in worldwide robotics markets, Innoecho brings together a vast business ecosystem of disruptive technologies for sustainable humankind. Throughout the year, Innoecho drives a community of over 3,500 robotics companies worldwide with nearly 10,000 leaders and decision makers who work together through open innovation and see robotics technologies, products and services not only as opportunities for technology-fueled growth and competitive advantages, but also as a means for human progress. Innoecho - A Human Approach to Disruptive Technologies. www.innoecho.com
Featured Product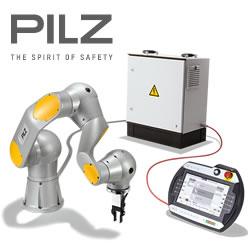 Our service robotics modules give you an easy start in robotics. Assemble your individual robot application - exactly according to your requirements: Service robotics modules consists of the manipulator module PRBT, the control module PRCM, the operating module PRTM and ROS modules. Our collision measurement set PRMS for human-robot collaboration (HRC) supports you reliably on your path to a safe application. Application areas of the service robotics modules can be found in service robotics and industrial environments. Benefit from our cost-efficient, flexible solution!