KINGSTAR 2.5 eliminates the need for proprietary, point, and/or hardware solutions for industrial automation motion control and machine vision.
WALTHAM, Mass.-- KINGSTAR, the industrys most innovative and complete motion control and machine vision software platform, today announced the general availability launch of KINGSTAR 2.5.

KINGSTAR 2.5 eliminates the need for proprietary, point, and/or hardware solutions for industrial automation motion control and machine vision. Through pre-tested, pre-integrated, and best-of-breed software components, the KINGSTAR platform reduces cost by up to half while delivering superior performance and quality.
As a comprehensive, open and standards-based platform, KINGSTAR enables engineers to design, develop and integrate motion control and machine vision applications with either KINGSTARs soft motion library and software PLC or one of their own choosing. Built on the foundation of EtherCAT and a real-time 64-bit Windows operating system, it provides a complete "plug-and-play" platform for control and automation engineering.
The KINGSTAR 2.5 Soft Motion Platform consists of the following end-to-end components:
KINGSTAR Soft Motion provides an integrated environment for consolidated, inexpensive and scalable motion control. Soft Motion runs directly on the PC, uses the NIC card for I/O, and uses the powerful EtherCAT protocol for freedom from proprietary and costly hardware.
KINGSTAR EtherCAT exposes the real-time interface that allows engineers to integrate their own motion algorithms or software with an EtherCAT network, providing highly customizable motion control with precision performance.
KINGSTAR Soft PLC, powered by ISaGRAF, delivers application management and deployment that enables complete and consolidated control of assembly lines and machinery.
KINGSTAR Machine Vision, powered by Matrox, allows engineers to build interactive applications and functions for image capture, processing, analysis, annotation, display, and archiving on GigE Vision®, USB3 Vision™ and other camera devices.
IntervalZero RTX64, the foundation of the KINGSTAR platform, replaces FPGAs and DSPs by transforming Windows into a real-time OS (RTOS), reducing development costs and significantly improving the quality of embedded systems.
"The market is rejecting the notion of expensive, proprietary industrial motion control and machine vision hardware," said Dipesh Mukerji, VP Marketing & Strategy of KINGSTAR. "The cloud-based IoT future demands cost-effective options without relinquishing performance or quality. We are excited to share KINGSTARs game-changing end-to-end platform, which can leverage a single Windows PC to perform multiple deterministic functions, such as soft control, soft PLC, and machine vision, in real time, at a fraction of the cost of current solutions to deliver precision perfect performance and unmatched quality."
KINGSTAR is headquartered in Waltham, Massachusetts and has offices in Nice, France and Munich, Germany. The company is a Microsoft Partner and gained Microsofts recognition as a leading partner in both North America and EMEA.
Featured Product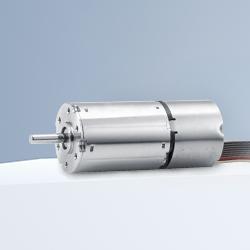 FAULHABER MICROMO launches the new MC3/MCS motion control family. The new high performance, intelligent controllers are optimized for use with FAULHABER motors, offer electronics for simple operation with state-of-the-art interfaces for multi-axis applications, and provide a motion control system solution with the most compact integration into industrial grade housing.