NEXCOM's NControl 30 CNC Controller manages the complexity and sophistication of 5-axis CNC machining with ease, thereby reinvigorating machine automation at full throttle.
NEXCOM MECHATROLINK-III-certified CNC Controller, NControl 30, holds machine automation to a high standard, yielding superior quality output of CNC machining. The PC-based CNC controller brings machine builders the openness of PC architecture, high-speed and highly-reliable control of MECHATROLINK-III, and flexibility in machine development. Meticulous to details and precise in execution, the NControl 30 manages the complexity and sophistication of 5-axis CNC machining with ease, thereby reinvigorating machine automation at full throttle.

As a high performance PC-based CNC controller, the NControl 30 supports advanced CNC functions to produce a smooth surface finish. With built-in functions, such as tool center point (TCP) and look ahead planning and support for function expansion, the NControl 30 can equip 5-axis CNC machines and turning centers with all the dexterity required of 3D high-speed multi-channel machining. The NControl 30 can not only run a wide variety of machining processes including laser cutting, wood working, lathing, milling, and engraving; it can also consolidate auxiliary functions as supplements to CNC machines.
With quality coming first and foremost in manufacturers minds, the NControl 30 has acquired MECHATROLINK-III compliance verification to keep CNC machines operating to stringent requirements. Taking advantage of error detection and noise resistance features of MECHATROLINK-III, the NControl 30 can ensure control commands are delivered accurately to slave drives and I/Os. The CNC controller can synchronize and coordinate all slave devices, enabling fluent movements of all axes. In addition to MECHATROLINK-III, the NControl 30 is also available with EtherCAT master which is suited to large-scale machining processes.
As CNC functions differ significantly from application to application, the NControl 30 offers flexible CNC design with a pre-installed Windows-based programming development tool 4CONTROL and HMI programming tool WinNBI. Machine builders can modify built-in CNC functions, redeveloping application-specific features to demonstrate their core competence; or build customized CNC HMI to further differentiate the CNN machine from competitors. NEXCOM also offers the dual-OS option with the NControl 30D, enabling CNC machines to run computer-aided design tool and more.
Featured Product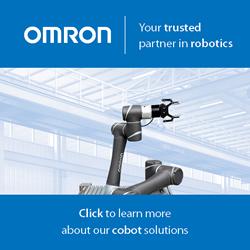 Humans and robots can now share tasks - and this new partnership is on the verge of revolutionizing the production line. Today's drivers like data-driven services, decreasing product lifetimes and the need for product differentiation are putting flexibility paramount, and no technology is better suited to meet these needs than the Omron TM Series Collaborative Robot. With force feedback, collision detection technology and an intuitive, hand-guided teaching mechanism, the TM Series cobot is designed to work in immediate proximity to a human worker and is easier than ever to train on new tasks.