Single-source fulfillment technology, software delivers increased throughput and accuracy
(ATLANTA: April 05, 2016)—Intelligrated® (www.intelligrated.com), a leading North American-based automated material handling solutions and software supplier, showcases its comprehensive lineup of order fulfillment solutions at MODEX 2016. The range of fulfillment technologies and labor management software (LMS) on display at booth #2737 highlight the companys ability to provide an integrated solution capable of handling a variety of fulfillment demands from a single source.

Intelligrated pick- and put-to-light systems are built to maximize productivity in e-commerce and omnichannel fulfillment operations characterized by fluctuating order volumes, increasing SKUs and complexity. Intelligrated pick-to-light solutions offer the flexibility and precision to adjust to changing fulfillment requirements and provide maximum accuracy, with the tools necessary to verify the correct SKU, order, store and location. Tight integration of Intelligrated pick-to-light hardware and software enables workflow optimization, simple scalability and safeguards to maintain productivity in the event of hardware failure.
Voice solutions from Intelligrated deliver 99.99 percent accuracy and up to a 45 percent increase in productivity. The modern voice technology offers unparalleled remote support capabilities, powerful coaching options and rapid new user onboarding. Other advanced features enable operations to get the most from fulfillment operations, such as advanced workflows for expert pickers to maximize productivity, real-time assessment of time to complete specific work zones and dashboards to drive immediate staffing adjustments.
Integrating lights or voice technology with GoKart mobile picking carts or put wall solutions enables greater productivity and accuracy in a variety of fulfillment workflows. Put walls use intelligent software that leverages real-time order metrics for order batching and waving to fill dynamic order profiles quickly and accurately, while slotting logic prioritizes ergonomics to maximize labor efficiency.
Intelligrateds GoalPost® LMS enables managers to implement a culture of accountability and continuous improvement, and create an attractive work environment that incentivizes performance. The software can adapt to the process requirements of specialized distribution and fulfillment operations, driving immediate and sustained long-term benefit.
"The volume and complexity of todays e-commerce operations requires a variety of flexible fulfillment technologies working together to deliver maximum speed and accuracy," says Kevin Roach, executive vice president and general manager, Intelligrated Software. "Intelligrated Software is in a unique position to deliver a single-source solution with simplified support and accountability, backed by the technical and integration expertise necessary to drive consistent results."
Featured Product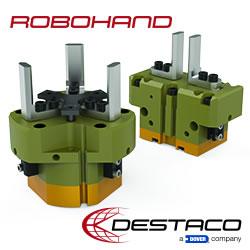 Automatically change end effector tooling quickly and easily with Destaco's Automatic Tool Changers. Designed with exceptional repeatability, high rigidity and load capacity, they are perfect for multiple tooling applications utilizing one robot. We offer different models and sizes to handle light-duty to heavy-duty applications. Our RQC/RTP Series provides a high level of flexibility with a configurable, modular design that accommodates up to four optional modular interfaces.