Unmanned systems entrepreneurs and innovators pitch ideas for a chance to win $15,000 and more
ARLINGTON, Va., April 5, 2015 /PRNewswire/ -- Fifteen entrepreneurs and innovators in unmanned systems and robotics have been selected as semi-finalists in AUVSI's Startup Showdown at XPONENTIAL 2016, the industry's largest trade show, taking place at the Ernest N. Morial Convention Center in New Orleans from May 2 to 5.

In a closed session on May 3, the semi-finalists will have five minutes to pitch their innovative ideas to a panel of venture capitalist judges representing Airware, The Commercial Drone Fund, Qualcomm Ventures, the Westbury Group and KPCB.
Three finalists will then be selected to present their ideas at a public session on May 4 from 4:30 to 5:30 p.m. CDT on the general session stage. During this time, each startup will have six minutes to answer questions from the judges about their ideas. The winner will receive a $15,000 cash prize, as well as one-on-one consulting time with the judges and attend AUVSI's Startup Connection on July 18 in San Francisco.
This year's semi-finalists include:
AnsuR BirdEye, based in Lysaker, Norway
ANT-Global Services, based in Sudbury, Massachusetts
Asylon, based in Philadelphia, Pennsylvania
BrashTech, based in Auckland, New Zealand
Dronesmith Technologies, based in Henderson, Nevada
Dronomy, based in Tel Aviv, Israel
EXO Technologies, based in Tel Aviv, Israel
GenSmart, based in Miami, Florida
Harbrick Technologies, based in Portland, Oregon
Luminati Aerospace, based in Riverhead, New York
Skytango™, based in Ireland
SmartC2, based in Grand Forks, North Dakota
Stratetek, based in Minneapolis, Minnesota
Vanilla Aircraft, based in Falls Church, Virginia
Viooa Imaging Technology Inc., based in Vancouver, British Columbia
These companies are poised to transform intelligent robotics and will showcase technologies including, 4-D geospatial modeling, self-driving vehicle rapid deployment and software solutions for unmanned aircraft systems. More information about the semi-finalists and their proposals can be found here.
Over 8,000 industry leaders and professionals from more than 55 countries are expected to attend XPONENTIAL 2016. The exhibit hall will showcase more than 600 cutting-edge companies from around the world, representing more than 20 industries. In addition, XPONENTIAL will offer over 300 educational sessions, providing information about the future of unmanned systems policy, regulations and technology.
XPONENTIAL 2016 will be hosted by award-winning journalist Miles O'Brien, the science correspondent for PBS NewsHour. Keynote speakers include John T. Chambers, executive chairman and former CEO of Cisco Systems; Gur Kimchi, vice president and co-founder of Amazon Prime Air; General David G. Perkins, commander of the United States Army Training and Doctrine Command; Michael P. Huerta, administrator of the Federal Aviation Administration; and Frank Kelley, deputy assistant secretary of the U.S. Navy (Unmanned Systems).
For more information about XPONENTIAL 2016, visit www.xponential.org.
To view this media announcement online, please visit http://bit.ly/1SMeoGX.
The Association for Unmanned Vehicle Systems International (AUVSI) — the world's largest nonprofit organization dedicated to the advancement of unmanned systems and robotics — represents more than 7,500 members from more than 60 countries involved in the fields of government, industry and academia. AUVSI members work in the defense, civil and commercial markets.
Featured Product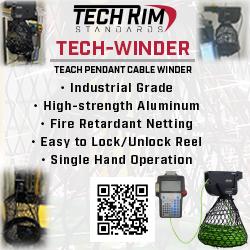 Tech-Winder is a robust solution for industrial cord management. Aluminum body, for hard impact protection. Flame retardant netting, for added protection against any sparks that may land on the cord. This industrial grade cord reel keeps your pendant cords protected and organized. Stores up to 50 meters (164 ft.) of cable in length with a diameter of 4.5 mm to 10.0 mm. Adapts to NAAMS or Modular Fencing when mounting. Help prevent your next $1,200 factory cable incident, by getting organized with Tech-Winder from Tech Rim Standards.