Rising Media announced that Dr. Joseph DeSimone, CEO & Co-Founder, Carbon is confirmed to deliver the opening keynote at Inside 3D Printing Conference & Expo in New York on April 11, 2016.
(New York, NY - April 6, 2016) - Rising Media, Inc. announced that Dr. Joseph DeSimone, CEO & Co-Founder, Carbon (Carbon3D, Inc) is the latest keynote presenter at the Inside 3D Printing Conference & Expo, taking place on April 10-12, 2016 at the Javits Convention Center.

Founded in 2013, Carbon revealed its innovative Continuous Liquid Interface Production (CLIP) technology in March 2015, which harnesses light and oxygen to produce parts with the resolution, surface finish, and mechanical properties required for end-use. On April 1, 2016, Carbon unveiled its first commercial machine, the M1, and seven proprietary materials.
DeSimone will be presenting a morning keynote on April 11 from 9:00am - 10:00am called "A Future Fabricated with Light," where he will provide an overview of the M1 product solution and Carbons vision to accelerate the future of manufacturing, enabling creators to think beyond the limitations of convention to design the parts and products that will drive the businesses of the future.
DeSimones keynote presentation will be one of six stand-alone keynotes as part of a program that explores new opportunities and challenges for 3D printing efforts across business, manufacturing, medicine, metal, and more.
Additional keynote speakers include: Magnus René, CEO, Arcam Group; Jonathan Jaglom, Chief Executive Officer, MakerBot; Terry Wohlers, Principal Consultant and President, Wohlers Associates, Inc.; Pete Weijmarshausen, CEO, Shapeways; and Tyler Benster, General Partner, Asimov Ventures; plus a metal keynote panel with leaders from Renishaw; FIT West Corp.; Desktop Metal; Additive Orthopaedics LLC; SLM Solutions; and Wohlers Associates, Inc.
Inside 3D Printing New York also features a full day of workshops, the Frontier Tech Startup Showdown sponsored by Asimov Ventures, and an exhibit hall with 60+ sponsors and exhibitors, including silver sponsors EnvisionTEC, MakerBot, MarkAny, and Mcor Technologies Limited.
Inside 3D Printing New York is co-located with Rising Medias RoboUniverse Conference & Expo and Virtual Reality Summit.
Prices increase on-site, so register before to save. For more information and to register for Inside 3D Printing New York, visit inside3dprinting.com/new-york.
If your company is interested in sponsoring or exhibiting at Inside 3D Printing New York or an upcoming event, please contact sponsorship@risingmedia.com.
Following events earlier this year in Singapore, Düsseldorf, and São Paulo, Inside 3D Printing has events confirmed for 2016 in New York, Sydney, Paris, Seoul, Tokyo, Shanghai, Mumbai, and San Diego. To learn more about upcoming Inside 3D Printing events, visit inside3dprinting.com/upcoming-events.
About Rising Media
Rising Media is a global events and media producer excelling in Internet and technology-related events and content. Events include Inside 3D Printing, RoboUniverse, Virtual Reality Summit, Data Driven Business, Building Business Capability, Predictive Analytics World, Text Analytics World, eMetrics Summit, Conversion Conference, AllFacebook Marketing Conference, Search Marketing Expo, Affiliate Management Days and Web Effectiveness Conference in the USA, United Kingdom, Germany, France, Dubai, India, China, Korea, Singapore, Australia, Brazil.
Featured Product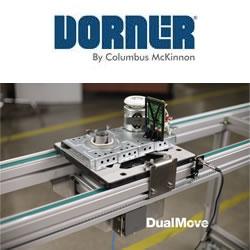 Dorner's 2200 Series Precision Move Pallet Systems are ideal for assembly automation. With features such as an innovative timing belt conveyor design and industry best pallet transfers, they get your product to the exact location, at the exact time and in the exact position it needs to be. They are now available with new options such as heavy load corner modules with 150 lb. capacity and 180 degree tight transfer corners for compact loops.