New AUVSI interactive analysis of more than 3,000 FAA exemptions finds almost 40 types of different uses approved; waivers granted in all 50 states and Puerto Rico
ARLINGTON, Va., April 13, 2016 /PRNewswire/ -- The Association for Unmanned Vehicle Systems International (AUVSI) today released an interactive analysis that finds 38 types of business operations have been approved by the Federal Aviation Administration (FAA) to fly unmanned aircraft systems commercially in the National Airspace System (NAS). According to the report that analyzed more than 3,000 FAA exemptions, aerial photography received the most, followed by real estate and aerial inspection. The report also finds that exemptions have been approved in all 50 states and Puerto Rico.

"The UAS industry is poised to be one of the fastest growing sectors in the U.S. and these numbers demonstrate that a wide variety of industries are eager to take advantage of this technology," said Brian Wynne, president and CEO of AUVSI. "From inspecting our nation's infrastructure to providing farmers with aerial views of their crops, the applications of UAS are virtually limitless. It's no wonder businesses - small and large - are clamoring to use this technology."
The report has interactive features that enable users to view the FAA exemption data in easy-to-read graphs and gain unique insight into the current landscape of the UAS industry. Using AUVSI's web tools, users can isolate state-specific data on the most popular applications for UAS, the most prevalent manufacturers for each type of use, and economic overviews on the companies gaining FAA exemptions.
In Sept. 2014, the FAA started granting exemptions for certain low-risk commercial UAS applications under Section 333 of the FAA Modernization and Reform Act of 2012. Since then, the agency has received more than 15,000 and approved more than 4,600 petitions.
AUVSI analyzed the first 3,136 exemptions approved by the FAA. Specifically, the report finds:
The approved exemptions cover 38 different types of business operations, with aerial photography receiving the most approvals with 2,557. Real estate followed with 1,969 exemptions and aerial inspection with 1,671 exemptions.
Exemptions were approved for operators from all 50 states and Puerto Rico. California received the most with 360, followed by Florida with 328 and Texas with 268.
The number of exemptions granted each month grew sharply from March 2015 to May 2015, reaching a peak in October of that year, at 419. Over 360 exemptions were granted in January 2016 alone.
Most commercial UAS operators are small businesses. About 90 percent of the nearly 3,000 companies receiving exemptions make less than $1 million in annual revenue and have fewer than 10 employees.
About 65 percent of all platforms mentioned in the exemptions are manufactured by DJI Global. Rotary-wing platforms are used about six times more than fixed wing platforms.
While the Section 333 process continues to unlock the potential of UAS technology, AUVSI emphasized that regulating by exemption is no substitute for finalized rules.
"While some businesses are flying, this current system of case-by-case approvals isn't a long-term solution. For the full potential of the UAS commercial market to be realized in the U.S., the FAA needs to finalize its small UAS rule, without further delays." Wynne said. "Once this happens, we will have an established framework for UAS that will reduce the barriers to commercial operations. The positive effects of the regulation will be felt by companies across the nation."
An economic impact study released by AUVSI found the UAS industry will create more than 100,000 new jobs and more than $82 billion in economic impact within the first ten years following UAS integration.
The complete analysis is available at http://www.auvsi.org/exemptions.
Commercial UAS operations will be among the many topics featured at AUVSI's XPONENTIAL 2016, the unmanned systems and robotics industry's largest trade show, taking place at the Ernest N. Morial Convention Center in New Orleans from May 2 to 5. Michael P. Huerta, administrator of the FAA; Gur Kimchi, vice president and co-founder of Amazon Prime Air; and John T. Chambers, executive chairman and former CEO of Cisco Systems, will deliver keynote speeches on commercial UAS policy and implementation.
More than 8,000 industry leaders and professionals from more than 55 countries are expected to attend XPONENTIAL. The exhibit hall will showcase more than 600 cutting-edge companies from around the world, representing more than 20 industries. In addition, there will be more than 300 educational sessions, providing information about the future of unmanned systems policy, regulations and technology. For more information, visit www.xponential.org.
The Association for Unmanned Vehicle Systems International (AUVSI) — the world's largest nonprofit organization dedicated to the advancement of unmanned systems and robotics — represents more than 7,500 members from more than 60 countries involved in the fields of government, industry and academia. AUVSI members work in the defense, civil and commercial markets.
Featured Product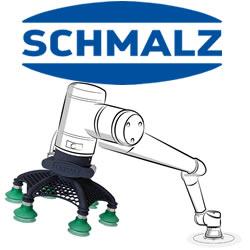 In order to interact with their environment and perform the tasks, lightweight robots, like all industrial robots, depend on tools - and in many cases these are vacuum grippers. These form the interface to the workpiece and are therefore a decisive part of the overall system. With their help, the robots can pick up, move, position, process, sort, stack and deposit a wide variety of goods and components. Vacuum gripping systems allow particularly gentle handling of workpieces, a compact and space-saving system design and gripping from above. Precisely because the object does not have to be gripped, the vacuum suction cupenables gapless positioning next to each other.