Automated system accommodates increased usage of shipping boxes by e-commerce companies, big box stores, and retailers
HERTFORDSHIRE, United Kingdom--(BUSINESS WIRE)--Today TM Robotics announced it has partnered with Cornerstone Automation Systems, LLC (CASI) to sell an intelligent box-opening device (IBOD) that combines the reliability of TM Robotics' Toshiba Machine robots with the ingenuity of CASI's intelligent box-opening software. Current box-opening options available on the market have limitations. Line workers run the risk of severe hand strains due to repetitive box-opening motions and using knives on conveyor belts can lead to injuries that result in blood on the manufacturing floor, while spinning blades create dust that impacts robots' productivity and longevity. Companies are looking for a reliable, safe solution that can accommodate the explosive growth of the box-cutting industry - and this partnership delivers on that need.

In a recent report issued by the Centre for Retail Research, e-commerce is noted as the fastest-growing retail market in Europe, with an expected increase in retail spending of 18.4% overall from 2015 to 2016 - which means more boxes will be used. According to CASI, other markets, including retail, pharmacy, and apparel, have also seen an increase in product shipments. More sales being made online and shipped directly to the purchaser's location increases the possibility of more returns - and with them, more boxes that need to be opened.
"Our European customers have been asking for a safer, more streamlined box-cutting solution for a long time - and this CASI-built IBOD delivers," said TM Robotics CEO Nigel Smith. "The special integration of our powerful, patented Toshiba Machine robot technology coupled with the sophisticated CASI software brings something to the market that our customers have never seen before - and they're thrilled."
The new system, which integrates seamlessly into warehouse logistics, can function at various cutting speeds and controls the length and depth of the cut, including a three- or four-sided cut.
"We chose to work with TM Robotics on this new IBOD based on the rigidity of its strong SCARA Toshiba Machine robots, first and foremost," said Michael Doke, executive vice president of CASI. "With that as our foundation, we were able to ensure this system is both precise and flexible. We're excited about this partnership and are looking forward to TM Robotics taking the lead on selling it in Europe."
About TM Robotics
TM Robotics, in partnership with Toshiba Machine, offers a comprehensive range of industrial robots ideally suited for high-precision assembly, machine loading/unloading and material-handling applications that can be dust proof, clean room, or IP65/67. The company's extensive product line starts with a Cartesian solution available in thousands of combinations from single actuators to four-axis solutions; six-axis solutions that can include precise vision-control; and a complete range of SCARAs from low cost to the industry-leading SCARA with 1200-mm reach that can carry up to 20 kgs. TM Robotics sells and services robots throughout Europe, the Middle East, India, Russia, and Africa, as well as North, Central, and South America, from headquarters in Hertfordshire, England and Elk Grove Village, IL, USA. For more information, visit www.tmrobotics.co.uk or follow us on Twitter, LinkedIn and YouTube.
About CASI
CASI designs, builds & supports Intelligent Automation for Order Fulfillment and Logistics for customer around the world from its headquarters in Frisco, TX. Every CASI system is tailored to meet a customer's unique requirements and return-on-investment. Our responsive sales and engineering team starts by understanding our customer's unique processes and related order data. From there we develop a tailored solution that delivers maximum return and efficiency with room for future growth in mind. At CASI, we are driven by our five core competencies: innovation, modular design, turnkey solutions, factory testing, and superior support. For more information, visit www.casiusa.com.
Featured Product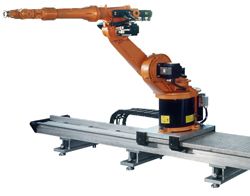 IPR Robotics offers a wide range of servo-driven 7th axis linear rails for industrial robots. These rails come in ten different sizes and are constructed from modular high strength extruded aluminum sections to handle payloads of 100 kg to 1600 kg or from steel to handle 2000 kg payloads. This variety of rail sizes allows each application to be sized correctly, controlling the space required and the price point. The drive train design of these rails utilizes helical gear-racks and is proven over 10 years to be repeatable and reliable, even in tough foundry applications.